French Media's Lack of Coverage in G20 Gaffe Between Obama and Sarkozy Raises Ethical Questions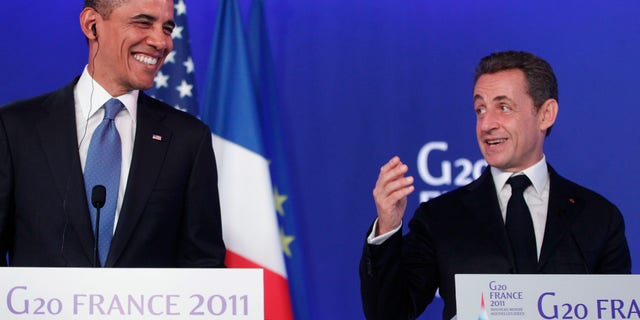 It was the political flub heard around the world, but you almost didn't know about it.
President Obama and French President Nicolas Sarkozy, chatting ahead of a press conference at the G20 summit on Nov. 3, exchanged disparaging words about Israeli Prime Minister Benjamin Netanyahu that were picked up on an open microphone.
"I can't stand him. He's a liar," Sarkozy said to Obama as the two discussed Netanyahu before the press conference. "You're tired of him; what about me? I have to deal with him every day," Obama replied.
Several reporters listened to the exchange over translation headsets they put on for the upcoming news conference, but they agreed not to report what they heard, holding to traditional media practices in France in which such comments are deemed private -- a stark difference from media etiquette in the U.S.
"It's a tricky situation because there's apparently some type of agreement in France that what comes over the microphones before or after the event is off the record," said Carl Hausman, a journalism professor at Rowan University in New Jersey who has written numerous books on media ethics, as well as testified before Congress about issues related to journalism and ethics.
"But there was no deception involved here," Hausman said. "The remarks came out by accident, not because anybody tried to eavesdrop. As such, I don't think it's the business of the news media to suppress news that you come by in the course of routine coverage."
However, one common courtesy among U.S. media is when sitting down for a one-on-one interview with the president, anything discussed before or after the formal interview is not reported on.
Despite the agreement among reporters, the dialogue was leaked by Arret Sur Images ("Freeze Frame"), a French website that analyzes media coverage of current affairs.
"We didn't record it, and to use it would force us to admit that we had cheated," Arret Sur quoted one of the journalists in its report.
In an article published on Tuesday, in which it confirmed Arret Sur's report, the Associated Press claimed that one of its reporters heard the off-the-cuff remarks along with several other journalists, but did not report on it because Sarkozy's office had asked them not to turn on the headsets until the news conference began.
The Associated Press declined to comment for this story; Reuters also declined comment.
French media normally do not report on the private lives of public figures and politicians, and if they report behind-the-scenes conversations, they never cite the source.
Obama and Sarkozy are hardly the first politicians to be caught in an open-mic gaffe.
Presidential candidate George W. Bush was caught, in a conversation with Dick Cheney, calling a New York Times reporter a "major league a---hole" when he spotted him at a rally during his first campaign in 2000.
And earlier this year, Sen. Chuck Schumer, D-NY, was caught during a conference call briefing his staff on what to tell reporters before a press conference began. He was unaware that the press was already on the line when he ran down a list of talking points, including suggesting that House Speaker John Boehner was tethered to the ideologies of the Tea Party and that the GOP's proposed spending cuts at the time were extreme.
"I always use the word extreme. That is what the caucus instructed me to use this week," Schumer told his staffers.
That these incidents were reported without hesitation in the U.S. raises the question of whether last week's conversation between Obama and Sarkozy should have been reported.
"The remarks were clearly newsworthy," Hausman said. "After all, we get the official, vetted, diplomatic version of events all the time. And as unsavory as the exchange was, it sheds light on an important topic.
"Mr. Obama and Mr. Sarkozy should be aware of the warning that's drummed into the head of every broadcaster: Every microphone should be regarded as an open microphone. "