French court gives go-ahead for destruction of Calais refugee camp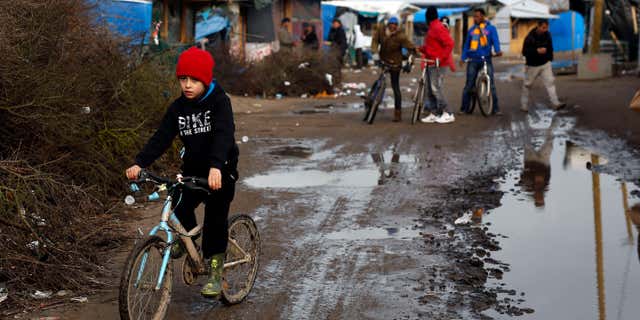 NEWYou can now listen to Fox News articles!
CALAIS, France – A green light Thursday from a French court sets in motion the evacuation of a large swath of a sprawling refugee camp in Calais where thousands dream of getting to Britain, with promises of a progressive and humane process in what could be a slow death for the wind-swept outpost.
But sceptics say the bid to end an embarrassing chapter in Europe's refugee crisis is not over, warning that many refugees will simply scatter along the northern coast.
The state announced this month that the densely populated southern half of the camp — known as the "jungle" — would be razed. A Tuesday night deadline for refugees to pull up stakes was pushed back after human rights groups and refugeess took the issue to court.
In a partial victory for the state, the court in Lille ruled that the makeshift shelters where refugees sleep can be destroyed — but that common spaces like places of worship, schools and a library that have sprung up must stand.
The port city of Calais, with ferries and the Eurotunnel rail system to Britain, has for years lived with refugees escaping conflict, human rights abuses and poverty, hoping for the good life across the English Channel. Numerous small camps have been bulldozed inside the city. But the current camp, with an estimated 4,000 refugees, has transformed the port city into a high-security tension point, fueled far-right sentiment and defied efforts to make it go away.
France's interior minister Bernard Cazeneuve lauded the court decision. Cazeneuve denied that bulldozers and police — who began patrolling this month inside the camp — would flatten the sprawling makeshift settlement.
"It has never been our intention to send in bulldozers to destroy the camp," Cazeneuve said in remarks broadcast after the court ruling was announced.
Officials estimate the number of refugees who will be affected at around 800 to 1,000. Humanitarian organizations say over 3,000 refugees live in the targeted southern sector.
Authorities said they will increase daily efforts to move uprooted refugees into a container camp set up last month in the northern sector and encourage them to go to a temporary welcome centers where they can reconsider their plans and eventually apply for asylum in France. No time limit was set on what is likely to be a weeks-long process.
"There will be people who try to stay as long as possible," said Francois Guennoc, an official with one of the associations that brought the legal action, Auberge des Migrants (Migrant Shelter). He has heard that some inside the camp have already left for other points, including Paris.
The ruling "is going to prompt people to set up small improvised camps all over," said Michel Jansen of Doctors Without Borders. Like other critics, he said there are not enough available places to house the uprooted. And he pointed to the case of a Red Cross-run camp in nearby Sangatte — used during its three-year existence by some 68,000 refugees — that was shut down in 2002. Afterward, hundreds moved up the coast to set up small camps around Calais.
Neighboring Belgium, concerned about an influx of Calais evacuees, began implementing border checks on Wednesday.
Another filthy camp known as a haven for smugglers, near Dunkirk, France, is being relocated to a more hygienic site with heated tents under the supervision of Doctors Without Borders.
In announcing plans to close the Calais camp, authorities cited security and sanitation concerns and the increasingly tarnished image of Calais, a city of nearly 80,000 that takes pride in drawing tourists to its Opal Coast. An increasingly bold tactic of refugees trying to sneak into trucks is exasperating drivers.
But it is hard to dissuade weary travelers who come to Calais driven by a dream — circulated among refugees, peddled by smugglers. Increased security has compounded the dangers for migrants trying to get to Britain. At least 20 have died since late June, according to the prefecture.
"We have this border in Calais particularly difficult to trespass," said Prefect Fabienne Buccio, the region's state official, after the ruling. "It is now extremely dangerous to cross over to England ... There is no reason for migrants to come to Calais since they can no longer get to England from here."
A "descent shelter" awaits them, she said, "and, most importantly, we will get them out of the hands of smugglers."
An Afghan living at the camp, Hayat Sirat, was not tempted by one of the new shelters.
"Going to Britain ... is what people (here) want," he said. "So destroying part of the jungle is not the solution."