Jacques Chirac, former French president, dead at 86, family says
Former French President Jacques Chirac, a notable critic of the Iraq War, is dead, according to multiple reports, citing family members. He was 86.
Chirac's son-in-law Frederic Salat-Baroux confirmed his death in a statement to The Associated Press, saying he died "peacefully, among his loved one" on Thursday.
FRENCH POLICE LAUNCH INVESTIGATION AFTER MACRON HEARS OFFICER REFUSING TO HELP DOMESTIC ABUSE VICTIM: REPORT
The family did not provide a cause of death, although Chirac reportedly has had health issues since leaving the presidency in 2007.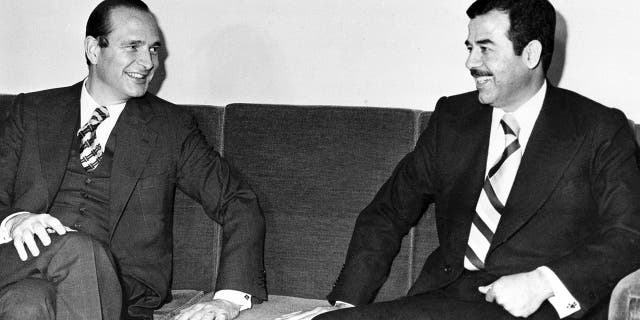 Long the standard-bearer of France's conservative right and a mayor of Paris for nearly two decades, Chirac was nicknamed "Le Bulldozer" early in his career due to his determination and ambition.
He began his two terms as president in 1995, serving as the consummate global diplomat, but failing to reform the economy or defuse tensions between police and minority youths that exploded into riots across France in 2005.
After two failed attempts, Chirac won the presidency in 1995, ending 14 years of Socialist rule. But his government quickly fell out of favor and parliamentary elections in 1997 forced him to share power with Socialist Prime Minister Lionel Jospin.
The pendulum swung the other way during Chirac's re-election bid in 2002, when far-right leader Jean-Marie Le Pen took a surprise second place behind Chirac in first-round voting. In a rare show of unity, the moderate right and the left united behind Chirac, and he crushed le Pen with 82 percent of the vote in the runoff.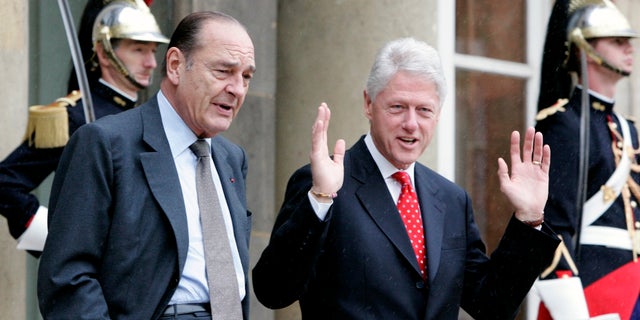 Chirac was the first French leader to acknowledge France's role in the Holocaust and defiantly opposed the U.S. invasion of Iraq in 2003.
While he had won a convincing mandate for his anti-crime, pro-Europe agenda at home, Chirac's outspoken opposition to the U.S.in Iraq rocked relations with France's top ally, and the clash weakened the Atlantic alliance.
Angry Americans poured Bordeaux wine into the gutter and restaurants renamed French fries "freedom fries" in retaliation.
The United States invaded anyway, yet Chirac gained international support from other war critics.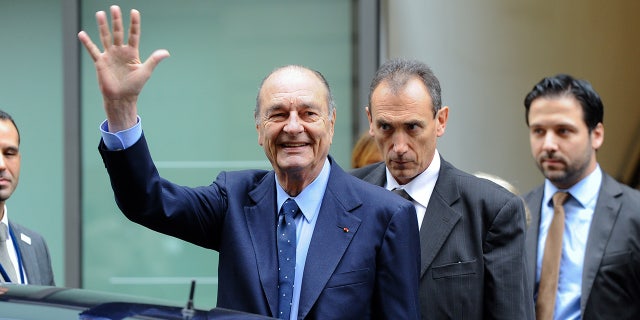 Following his presidency, Chirac was riddled with scandals, including allegations of misuse of funds and kickbacks during his time as Paris mayor.
CLICK HERE TO GET THE FOX NEWS APP
He was formally charged in 2007 after he left office as president, losing immunity from prosecution. In 2011, he was found guilty of misuse of public money, breach of trust and illegal conflict of interest and given a two-year suspended jail sentence.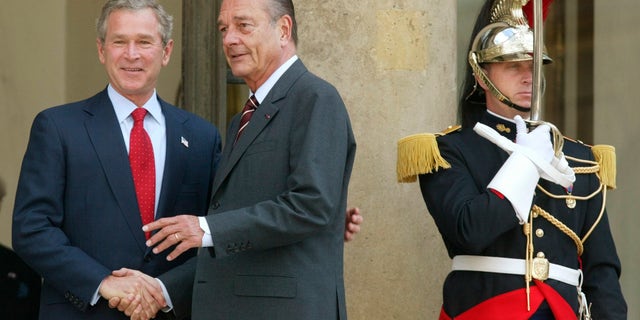 He did not attend the trial. His lawyers explained he was suffering severe memory lapses, possibly related to a stroke he suffered while still president in 2005.
Chirac is survived by his wife and younger daughter, Claude. His daughter, Laurence, died in 2016 after a long illness that Chirac once said was "the drama of my life."
The Associated Press contributed to this report.