Former Argentinian president says son's killing was a terrorist attack by Hezbollah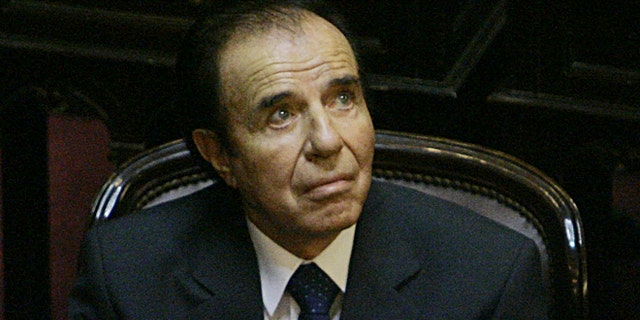 Former Argentinian President Carlos Menem accused the Islamic terror group Hezbollah of involvement in the 1995 death of his eldest son, Carlos Menem Jr.
In a written testimony to a judge overseeing the investigation of his son's death, Menem said that Argentina's former Foreign Minister Guido Di Tella – now deceased – had told him he heard through foreign embassies and from the intelligence services such as the CIA and Mossad that Hezbollah was involved his son's death.
It is not clear why Menem is speaking out now, 21 years after fact.
According to La Nación newspaper, Menem also said that he and his family were threatened repeatedly in recent years and requested that police protection, which has been granted.
Menem, who was president from 1989 to 1999 and is currently a senator, did not provide any evidence to implicate the terror group in his son's death.
Carlos Menem Jr. was killed on March 15, 1995 when a helicopter he was piloting crashed. He was 26 years old.
For years, Menem and his ex-wife Zulema Yoma have claimed that their son was murdered but had not previously specified who they thought killed him.
On Saturday, after learning of Menem's statement to the judge, Yoma said it is clear the former president "is hiding [something]" and "is being pressured."
"The key to solve 'Carlitos' death is to investigate," she said in a radio interview, as quoted by La Nación. "This was never an accident, it was the murder of the son of a president," Yoma said.
In another significant development in the case, last week the judge ordered former Argentinian President Cristina Fernández to testify over allegations that she told Yoma that her son's death was "the third attack" by terror groups on Argentina in the 1990s.
Argentine prosecutors believe Hezbollah and Iran were responsible for the 1992 bombing of the Israeli embassy in Buenos Aires and the 1994 bombing of a Jewish community center that killed 85 people in the worst terrorist attack on the nation.
Both bombings occurred while Menem was president of Argentina, which has the largest Jewish population of any country in Latin America.
Many Argentinians believe the bombings were triggered by Menem's decision to bolster the country's relations with the United States while withdrawing support for Iran's ambitions to develop nuclear technology.
The Associated Press contributed to this report.