For 2nd time in 3 weeks, agents discover drug tunnel connecting Mexico to California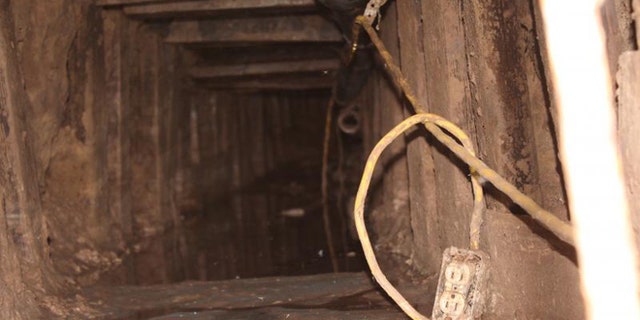 NEWYou can now listen to Fox News articles!
U.S. authorities discovered in California a 140-foot-long tunnel stretching between the Golden state and Mexico.
While on patrol about two miles east of the Calexico Port of Entry, a Border Patrol agent noticed "a depression in the soil' along the All-American Canal that parallels the U.S. border with Mexico. When the agent inspected it closer, the depression collapsed and exposed a hole that was 18-inches wide.
This agent saw something that didn't look quite right and it turned out to be a tunnel.
Inside the hole, the agent could see lumber and wiring. It is the third such tunnel found ending in Calexico this year.
"This is exactly what our Border Patrol agents are on patrol for," El Centro Sector Chief Rodney Scott said in a press release. "They are on the lookout for anything out of the ordinary along our vast Southwest border. This agent saw something that didn't look quite right and it turned out to be a tunnel."
The tunnel, which investigators said was about 3 feet wide and 142 feet long, or slightly shorter than an Olympic-sized swimming pool, began 60 feet south of the Mexican border in an area of open fields and farmland.
In a statement, the Border Patrol said that they did not know what the tunnel was used for, but noted that "anything or anyone could potentially cross into the U.S." using it.
This discovery of this tunnel comes less than a month after agents discovered an underground tunnel that ran the length of four football fields from a restaurant in Mexicali, Mexico, to a newly built house in Calexico, California.
Drug traffickers allegedly purchased the Calexico property in April of last year for $240,000 and finished building a three-bedroom house on the parcel for $86,000 by December. Prosecutors say the first tunnel shipment occurred Feb. 28, leading to the seizure of 1,350 pounds of marijuana in Los Angeles.
The tunnel extended about 300 yards in Mexico from El Sarape Mexican restaurant and ran about 100 yards on U.S. soil to the house, which was in a quiet residential area.
Calexico is a city of about 40,000 people located 120 miles east of San Diego.