Flight school staff arrested after allegedly kidnapping 'illegal' student, trying to fly him back to China: report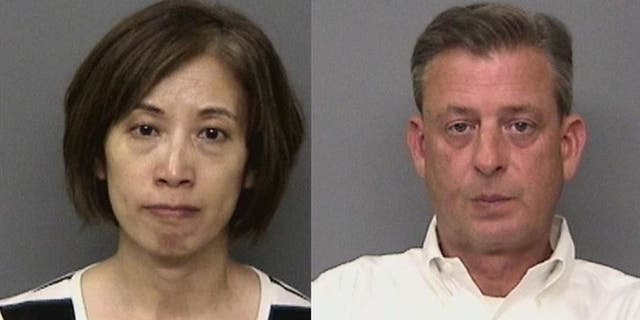 NEWYou can now listen to Fox News articles!
A flight school instructor and his assistant were booked at an airport Friday after allegedly kidnapping one of their students and attempting to send him on a plane back to China, police said.
Tianshu Shi, 21, recorded audio from the alleged attack by Jonathan McConkey and his assistant, Kelsi Hoser, who both work for IASCO Flight Training in Redding, Calif.
Shi, who said the two employees had visited him on Thursday night and told him he would be "shipped back" to China the next day, provided the audio recording to the Record Searchlight. (WARNING: GRAPHIC AUDIO: CLICK TO LISTEN TO THE RECORDING)
"I've got your f***ing passport, you're leaving now," a male says in the audio recording. "I'm not f***ing with you. Let's go. Don't f*** with me."
Shi's university reportedly paid approximately $70,000 for his instruction at IASCO, which contracts with China's civil aviation authority for pilot training services.
At one point, Shi, who claims he has been grounded by the school for the past two months, appears to ask his instructor whether he is being threatened.
"Your a** is getting on a plane right now -- I'll break your f***ing arm. You'd better believe I'm threatening you," the male voice says.
A female voice adds: "You are here illegal, you know that? If you don't go with us, you go to jail."
"If you cannot speak English, you are not going to be able to stay here," she says. The man speaks only in English in the recording; the woman alternates between English and Mandarin.
Shi had reportedly been in the United States for just seven months at the time of the incident, on an M-1 visa, which applies to students involved in vocational or technical programs.
The male in the recording also threatens to call the police and claims to have Shi in his legal "custody."
"At that moment, police is my Jesus."
"The United States government needs you out of this country right now, you understand?" the man asks.
AIRPLANE MAKES EMERGENCY LANDING ON FREEWAY AFTER EXPERIENCING MECHANICAL ISSUES
Shi agreed to get in the car with his instructor because he was fearful for his safety, police said.
The Los Angeles Times reported that Shi managed to contact his brother in China during the encounter. Eventually, Shi's brother spoke to one of Shi's flight school classmates, who confirmed the apparent kidnapping.
Authorities encountered the trio at Redding Municipal Airport. That's where the flight instructors told police that they had organized the vigilante deportation because Shi's English was not up to par for communicating safely with air traffic controllers, The Los Angeles Times reported.
"At that moment, police is my Jesus," Shi said after his rescue.
"I can't speak English well in life, but I can speak English well with air traffic control," he said in an interview with Searchlight.
McConkey and Hoser were charged with kidnapping, and have been released on bail.