Fishermen, volunteers race to rescue as migrant boat sinks off Greek isle of Lesbos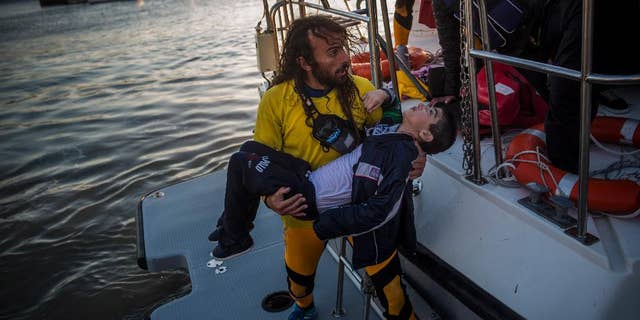 LESBOS, Greece – An autumn chill had set in and winds were blowing at 30 miles per hour (50 kph) when the wooden boat, packed with families from Syria and Iraq, set out on the short crossing from Turkey to the Greek island of Lesbos and the promise of a new life in Europe.
Partway across, it capsized, triggering a scene of panic, confusion — and compassion — in a dramatic rescue recorded on video from a boat involved in the operation.
A Greek Coast Guard vessel sped to the site of the latest migrant catastrophe on Europe's doorstep. So did an array of volunteers, including Spanish lifeguards and Turkish fishermen, who crammed dozens of distraught people onto the decks of their small boats.
People bobbing in the water — the lucky ones in lifejackets — were hauled aboard fishing boats where they huddled, shaking and sobbing. It was too late for one man, pale and cold, who was placed gently into a black body bag. Several other corpses bobbed in the water.
Spanish lifeguards, who had left the beaches of Barcelona to help save refugee lives in Greece, dragged people from the water onto the backs of jet-skis.
The Greek Coast Guard said 242 people were rescued in the operation Wednesday night, including at least 18 children. At least seven people died, and more than 30 are missing.
As the rescue boats arrived in the port town of Molyvos, paramedics and local volunteers raced to treat the shocked, chilled survivors. Among them were children, some scarcely more than babies, bundled up by their parents for a perilous journey.
As one boat docked, a medic scooped a small child in his arms and rushed ashore. Another man looked urgently for signs of life in a limp, dark-haired toddler wearing a colorful striped top. Doctors struggled to revive several unconscious children; it was unclear whether any had died.
Men and women wrapped in thermal blankets sobbed, with shock or relief, as they limped ashore.
As dawn broke, the sea looked deceptively calm and blue. Blanket-wrapped survivors sat in a quayside square scattered with discarded shoes, boxes of clothes and a mound of orange lifejackets. In a nearby chapel, medics tended to the many suffering from shock or hypothermia.
So far this year more than 300,000 migrants have reached the island of Lesbos, and worsening autumn weather has not stopped the flow of migrants.
Local people feel powerless in the face of so much suffering.
Manolis Galanakis, a local fisherman, said the actions of people smugglers who loaded the boats were "a crime against humanity."
"They just get money to put those people on boats to be dead," he said.
"Where is humanity? Where are the rulers, the decision makers of this world? What the hell do they do?"