First Uruguayan Gay Couple Signs Up For Marriage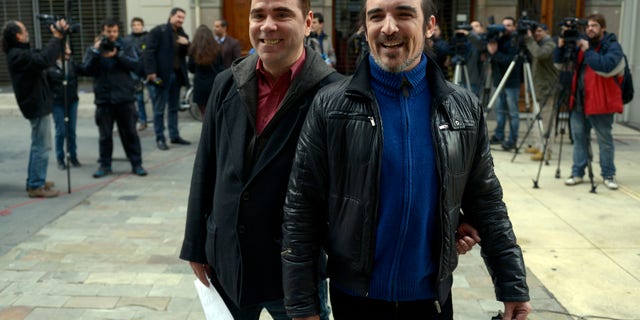 Montevideo – A gay couple showed up before dawn to be the first to register under Uruguay's new "marriage equality law."
TV producer Sergio Miranda and artist Rodrigo Borda have been partners for 14 years. They signed up at Montevideo's civil registry on Monday.
Miranda says they announced the registration so that people can see it's normal. Borda calls it "a historic day."
He hopes this "will be seen in many countries where this option still isn't possible" and may lead to more freedom.
Uruguay is the second Latin American country to allow gay marriage, after Argentina. President Jose Mujica's signed the legislation in May, but it took 90 days to come into effect.
Same sex marriages have also been legal in Mexico City since 2009, although not in the rest of the country.
Mujica's government also decriminalized abortion and expects senate approval soon for a government-managed marijuana industry.
"There are people who are constantly living a double life. That's why we do all this so visible, to show that you can. Now we live in a country that is very open-minded, you see it on the people and on the streets," said Borda.
The men said they will pick a date for their actual wedding later this month.
"It's all a little weird, but for me it is a joy, I feel my son's happy, accomplished, this is his choice of life," Susana Charrié, mother of Borda, said at the gates of the Civil Registry.
Based on reporting by The Associated Press.
Follow us on twitter.com/foxnewslatino
Like us at facebook.com/foxnewslatino