Financial crisis will crown winner of Cyprus' presidential election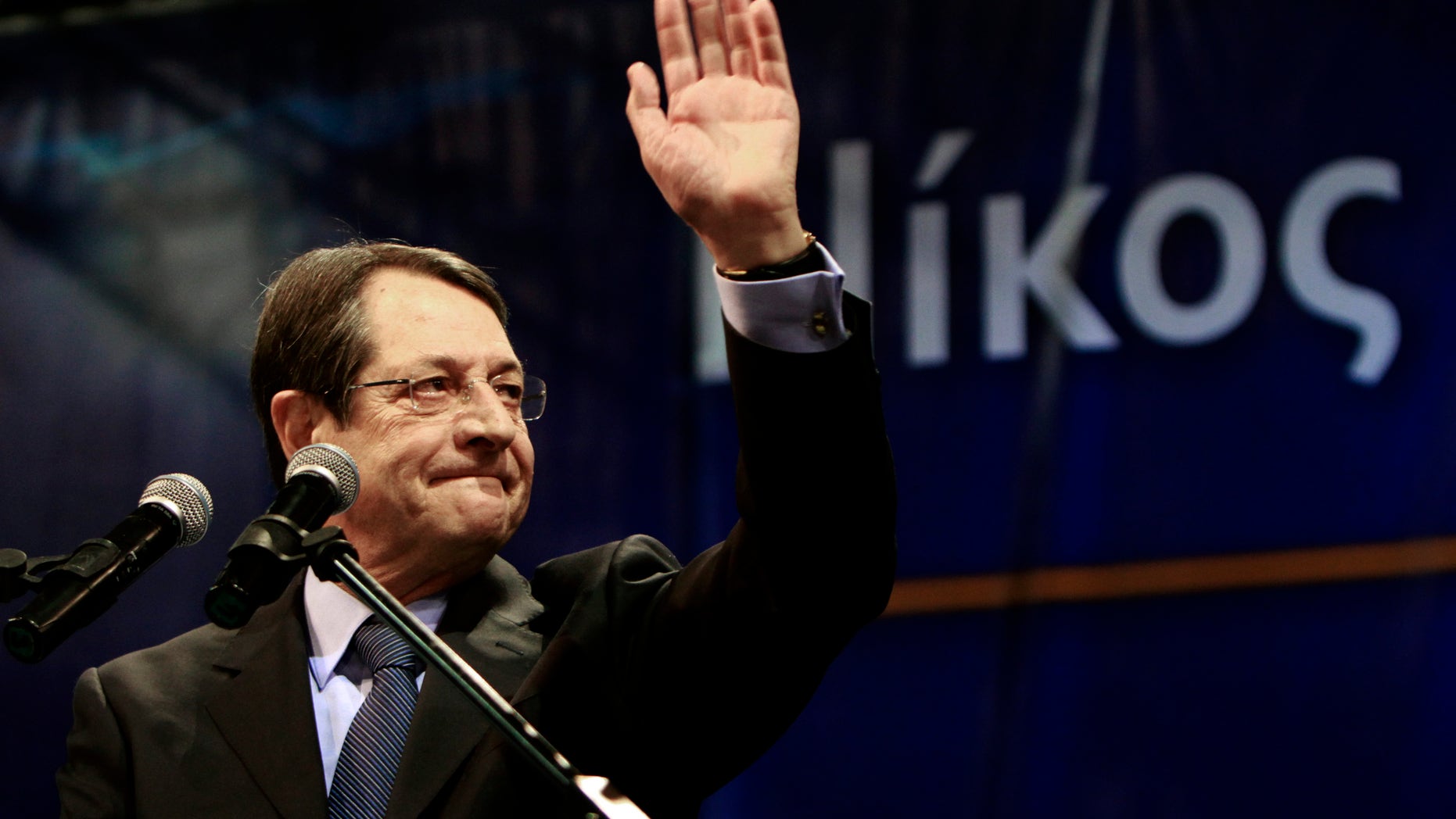 NICOSIA, Cyprus – Cypriots vote Sunday for a new president to guide them through a severe economic crisis as their country becomes the latest financially troubled European nation seeking international rescue money.
For the first time in 40 years, the crisis has eclipsed efforts to reunify the ethnically divided country as the predominant pre-election issue. A shrinking economy, nearly 15 percent unemployment and salary cuts and tax increases demanded under a preliminary bailout deal with eurozone countries and the International Monetary Fund have cracked a veneer of prosperity partly built on Cyprus' outsize banking sector.
The financial woes have been compared to the economic catastrophe that befell the country in 1974, when a Turkish invasion following a coup by supporters of uniting the island with Greece split the country into a breakaway Turkish-speaking north and an internationally recognized Greek-speaking south.
Sunday's vote will take place only in the southern part of the country, which is the part needing a bailout.
The winner will succeed deeply unpopular communist-rooted Dimitris Christofias, who is honoring a pledge not to seek a second five-year term if his negotiations with breakaway Turkish Cypriots to reunify the country failed.
Opinion polls show Nicos Anastasiades, the 66-year-old head of the right-wing main opposition Democratic Rally (DISY) party, as the frontrunner.
Seen by some as a polarizing figure, Anastasiades has never enjoyed mass appeal, and his critics have made much of his support for a 2004 U.N.-backed reunification plan that Greek Cypriots rejected. But he has masterfully tapped into public discontent with the outgoing government's handling of the economy as well as events that led to a massive explosion of seized Iranian munitions in 2011 that killed 13 people and wrecked the country's main power station.
He has a reputation for a hot temper. His nickname, 'tasakias' or 'ashtray,' was born from rumors he turned one into a projectile during a row at a party meeting. He denied the incident ever took place, but the nickname stuck.
Polls show him well ahead of main opponents Stavros Malas, 45, a former health minister in Christofias' government who is backed by communist-rooted AKEL party, and independent Giorgos Lillikas, 52, a former foreign minister under the late President Tassos Papadopoulos.
If no one gets more than half of the votes, the top two candidates go to a runoff a week later, a scenario polls suggest is likely.
The victor will jump into the bailout fray immediately. Euro-area leaders are expected to decide on rescue package for Cyprus in the latter half of March and the country is fast running out of money to pay its bills. The new president will have to convince skeptical eurozone partners — especially bailout-weary Germany — that Cyprus is a credible partner that deserves help and isn't a tax haven where Russian oligarchs park their dodgy money.
"Cyprus has no option but to sign a bailout agreement," says University of Nicosia political science professor Hubert Faustmann. "Bankruptcy is not an alternative."
On the surface, a bailout appears straightforward. Cyprus, which represents a mere 0.15 percent to the eurozone economy, needs up to €17 billion ($22.84 billion) to shore up its economy and save its banks, crushed under the weight of their toxic Greek debt holdings. That's a fraction of the amount in the bailouts of Ireland, Portugal and Greece. But the sum is equivalent to the entire economy of Cyprus, raising concerns that it may not be able to repay the loans.
With Cyprus' fate in the hands of other euro area countries, campaigning has focused more on the candidates' leadership mettle rather than fleshing out complicated economic issues.
Anastasiades has close ties to European leaders on whose goodwill the country is counting, an image encapsulated in his ubiquitous slogan, "The Crisis Needs a Leader." The idea has gained traction among Cypriots, most of whom favor a bailout.
Last month, Anastasiades burnished his credentials with an endorsement from German Chancellor Angela Merkel during a meeting of European center-right parties. If he wins, he would enjoy the advantage of having the backing of parliament where DISY and its ally, center-right DIKO, hold a slim majority.
"I ask from you a strong, clear mandate in order to immediately get to work covering lost ground, restoring our homeland's credibility and safeguarding our national interests within Europe's decision-making centers," Anastasiades told a campaign rally in the capital Nicosia this week.
Malas is a relative political newcomer who has carefully avoided being cast as heir to Christofias, who recently claimed that Cyprus was being persecuted by other eurozone countries. Instead, Malas has positioned himself as a candidate unburdened by a political past, and pledged to try to soften bailout terms to protect salaried workers. Even so, his support from AKEL with its perceived legacy of poor governance is seen as his main liability.
The overarching theme of businessman Lillikas' populist-driven campaign has been his pledge to immediately sell rights to a portion of Cyprus' new-found offshore natural gas deposits to pay the country's way out of the crisis and rid the country of bailout-mandated austerity measures within a year.
Lillikas has been dogged by the accusation of being an ambitious opportunist who climbed the political ladder on the back of parties he no longer supports and of being an ideological flip-flopper, swinging from a left-wing dove to rightist hardliner. Opinion polls, however, show he would fare better against Anastasiades in a runoff than Malas would.
Some 545,000 registered voters are eligible to cast their ballots for a total of 11 candidates.