FIFA fighting racism 'seriously' despite ending task force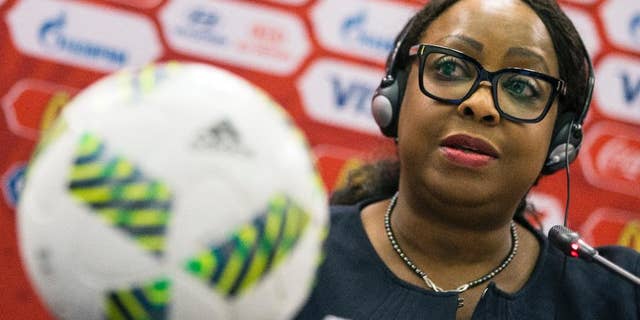 MANCHESTER, England – FIFA Secretary General Fatma Samoura insisted Monday that the fight against racism is being taken "very seriously" despite the governing body's task force overseeing discrimination being abolished.
The Associated Press revealed Sunday that the task force was being dismantled after FIFA told its members the mission had been completed after three years.
"The task force had a very specific mandate that to our knowledge it has fully fulfilled," Samoura said at the SoccerEx convention. "Its recommendations have now been turned into a program and a strong one."
Samoura was appointed in May as the organization's first female and first African top administrator of world soccer's governing body as part of the overhaul under Gianni Infantino. The Senegalese former United Nations official said her "presence here is a strong testimony that for FIFA, it is a zero tolerance policy" on discrimination and it is an inclusive organization.
Responding to criticism of the task force being scrapped, Samoura said, "We can live with perceptions, but we are taking very seriously our role as the world governing body of football to fight discrimination."
Before Samoura took the SoccerEx platform, a senior British politician spoke out against the decision to dismantle the task force with ongoing concern about racism at stadiums in Russia. Earlier this month, European soccer's governing body, UEFA, ordered Russian club Rostov to close a section of its stadium for its Champions League game against PSV Eindhoven on Wednesday as punishment for the racist behavior of fans.
"I worry about that with a World Cup looming in Russia," said Andy Burnham, a former sports secretary who speaks on Home Affairs for the opposition Labour Party. "We can't be complacent and feel at all we have succeeded in the fight against racism in sport."
The task force was established in 2013 by then-FIFA President Sepp Blatter and headed by Jeffrey Webb, a vice president of world soccer's governing body until he was arrested in 2015 as part of the American investigation into soccer corruption.
Webb, who pleaded guilty to racketeering charges, was replaced in September 2015 as task force chairman by Congolese federation president Constant Omari.
___
Rob Harris can be followed at www.twitter.com/RobHarris and www.facebook.com/RobHarrisReports