Fierce clashes in Iraq as ISIS takes control of villages near Ramadi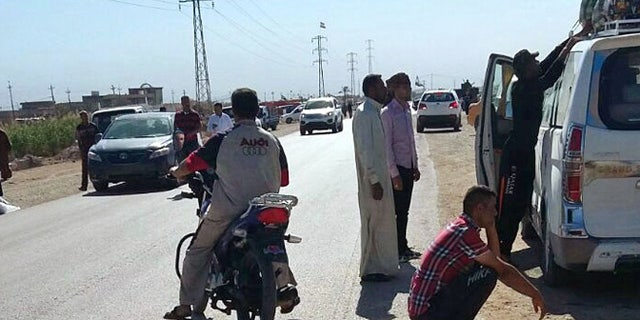 BAGHDAD – The Islamic State group launched an offensive in Iraq's western Anbar province on Wednesday, capturing three villages near the provincial capital of Ramadi and forcing villagers to flee from their homes as fierce clashes were underway between the extremists and government troops, residents said.
The militants' push comes after the Islamic State was dealt a major blow earlier this month, when Iraqi troops routed the group from Tikrit, Saddam Hussein's hometown. Wednesday's fighting could also further threaten Ramadi, 70 miles west of Baghdad. The city is mostly held by government forces but militants control some parts of it, mainly on the outskirts.
In a dawn advance, ISIS extremists seized the villages of Sjariyah, Albu-Ghanim and Soufiya, which had also been under government control till now, the residents said. Fighting was also taking place on the eastern edges of Ramadi, about two miles away from local government building, they added.
In Soufiya, the militants bombed a police station and took over a power plant. The residents, who spoke on condition of anonymity fearing for their own safety, said airstrikes were trying to back up Iraqi troops. Iraqi security officials could not immediately be reached for comment.
Around noon Wednesday, the militants opened another front with the government troops on three other villages, to the northeast of Ramadi, the residents also said.
An Iraqi intelligence official said the militants were preparing to launch another offensive from the western side of the city, describing the situation as "critical."
ISIS was also trying to take control of the main highway that goes through Ramadi, to cut off supplies, the official said, speaking on condition of anonymity because he was not authorized to talk to the media.
Defense Ministry spokesman, Brig. Gen. Tahseen Ibrahim, acknowledged on Wednesday that Islamic State militants "gained a foothold in some areas" in Anbar. But he said reinforcements were dispatched to the province and that U.S.-led coalition airstrikes were supporting the Iraqi forces.
"The situation is under control and the standoff will be resolved in the coming hours," Ibharim told The Associated Press. He added, however, that most of the villagers in the area had fled from their homes amid the fighting but gave no details.
Hundreds of U.S. and coalition forces have been training Iraqi troops at Anbar's Ain Al-Asad air base, about 68 miles west of Ramadi, which came under an ISIS attack in mid-February. The attack, which involved a suicide bomber, was repelled.
In a statement late Tuesday, the U.S. Central Command said the international coalition carried out 18 airstrikes on militants in Iraq and Syria in the past two days. Of those, 15 were in Iraq, including three near Ramadi that destroyed tactical units, fighting positions, vehicles and mortar system, it said.
The Anbar fighting coincides with Iraqi Prime Minister Haider al-Abadi's visit to Washington where he met with President Barack Obama on Tuesday and appealed for greater support from the U.S.-led coalition carrying out airstrikes against ISIS militants, who have also captured large areas in neighboring Syria.
Also, a spate of militant attacks in and outside Baghdad killed at least 43 people over the past two days.
Meanwhile, Iraqi state TV cited Lt. Gen. Abdul-Wahab al-Saadi, the regional commander of troops in Salahuddin province as saying that troops started a large-scale operation to recapture areas beyond Tikrit. The TV did not provide more details.
Last year's blitz by the Islamic State, which swept through key areas in the north and west to seize about a third of Iraq, has pushed the country into its worst crisis since the 2011 withdrawal of U.S. troops.