EXCLUSIVE: VA forgets veteran's suicide, sends grieving sister his new benefits card: 'like losing him again'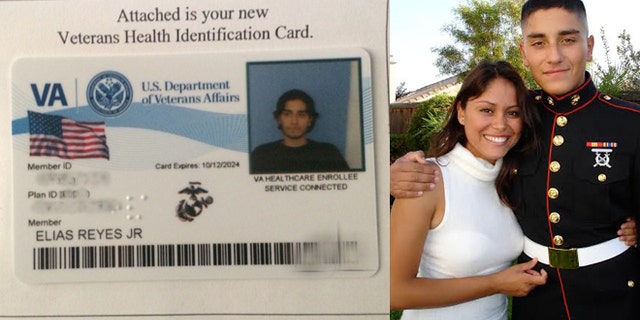 Since April 12th, Margarita Reyes has had good days and bad days. Tuesday was a good day, until she went and got the mail.
It was an envelope from the U.S. Department of Veteran Affairs and in it was a brand new Veterans Health Identification Card with a photo of her brother Marine Corporal Elias Reyes, Jr. renewing his health benefits until October 12th, 2024.
The problem is Elias committed suicide six months ago after suffering from a traumatic brain injury and post traumatic stress disorder. Margarita Reyes says the Veterans Administration failed to help her 27-year-old brother by not delivering the kind of quality healthcare he deserved.
"I got his ID in the mail and it just brought everything back," Reyes said crying. "It just was really upsetting."
The department recently started issuing new ID cards to all its service members, and Reyes isn't the only glitch in that system. In another incident last week in Kansas, a veteran who died a year and a half ago received an identification card as if he were still alive.
"I would hate to say that it surprises me," VA Public Affairs Officer for Eastern Kansas, Jim Gleisberg, told Kansas First News. "It's a shame that large organizations have different areas and they don't communicate well with each other but yes, I'm afraid that does happen."
In a statement to Fox News Latino, the VA office said they sincerely apologized for the mistake.
"We express our heartfelt condolences and apologize for any distress she felt upon receiving the card," said VA spokesman Phil Walls.
The apparent gaffe by the department of Veteran's Affairs comes in the wake of the VA scandal earlier this year over long wait times for veterans seeking medical care and evidence VA hospitals falsified data to cover it up. As many as 40 veteran patients died while waiting for medical care at a Phoenix VA hospital, and the incident prompted a congressional investigation and the resignation of Veterans Affairs Secretary Eric Shinseki as well as four other senior executives.
Reyes began receiving services from the VA after serving three combat deployments between 2004 and 2008. He joined the Marines right out of high school and by the age of 22 he had served twice in Iraq and once in Afghanistan, his last active duty tour before coming home.
Margarita said the VA has known about her brother's death from the start. Just 27 days after her brother died, the federal government sent a bill to the family asking that they return his disability check.
"Please be advised that (Elias) is not entitled to benefits for the month in which death occurred," the letter read.
"His death certificate hadn't been issued yet and they were asking for money back," said Margarita. The family eventually paid back in full, writing a check for $400.93.
"They are just not leaving us alone, it's not bad enough they didn't take care of our brother," Margarita told Fox News Latino. "It's hard enough that I lost my little brother, but it's like I keep losing him over and over again."
'The perfect storm'
In the years after returning home from combat in 2008, Reyes returned to school and eventually graduated from University of California in Los Angeles in 2012 with a 3.8 grade point average. Raised by a single mother, who worked at McDonalds to support her six children, it was Elias' dream to go to medical school.
But all the while he was suffering from the invisible wounds of war, his sister said. Referred to as the "perfect storm" by some health experts, Reyes was going through both PTSD and TBI though, his sister said, he was very high-functioning.
He lost part of his hearing and suffered a brain injury from an improvised explosive device that went off near him during a foot patrol on July 23, 2007, in Fallujah Iraq. More than 287,000 service men and women suffer from some sort of TBI and by federal government estimates up to 20 percent of veterans who've returned from Iraq and Afghanistan have PTSD. Though, the government admits, that number could be higher since some veterans don't seek treatment, usually, because of the stigma associated with having a mental health problem.
Margarita Reyes said her brother routinely had to wait six weeks just to get an appointment to see a doctor, was often met with constant red tape in trying to get counseling and educational benefits and he complained that even if he did see a doctor the response from them was often a prescription for anti-depressants.
"He used to tell me: 'The VA is just trying to pump us full of medication,'" she said. "My brother refused to take the medication because the side effects were suicidal thoughts."
Elias Reyes started having suicidal thoughts in about 2012. He became so angry with the VA that he updated his Facebook status months later: "I hate the VA with a passion."
Walls, from the VA, said the agency tries its best to provide the best care they can to veterans.
"We care about every Veteran who seeks care at any of our facilities," Walls said. "We have taken aggressive steps in ensuring our mental health treatment and suicide prevention measures meet the needs of Veterans and their families who seek our care."

Friends 'dropping like flies'
More than 22 veterans a day die by suicide, according to the latest report from the VA.
That statistic is all too real for those who fought alongside Reyes in Echo Company 2nd Battalion of the 7th Marine regiment based in California.
Echo Company Sergeant and Squad Leader Andrew Bird fought with Reyes during a combat tour in Sangin, Afghanistan, in 2008. There, in the Helmand province, the battalion was engaged in combat about three of four times a day and in that one deployment they lost more than 20 marines, Bird said.
In the five years since returning home, their battalion has lost nearly as many Marines to suicide as were killed in combat in Afghanistan. Just two weeks ago, another member of the battalion took his life.
"You're afraid to answer your phone," said Bird, who has personally lost seven friends from his company to suicide. "You're afraid to answer a Facebook message."
Bird said the VA clearly has a disconnect with veterans and he said the VA needs to reform the entire system to fit the needs of the veterans.
"Something has to be done…they are dropping like flies" Margarita Reyes said, whose older brother was sent to combat on the same day she received her late brother's identification card. "The guys want to change but they don't know how…It's scary to think that so many of our family members and friends are a part of the system as veterans."
The VA's office, however, said they work hard to help those suffering from depression and other issues. And, they said, they work with the families when veterans decide to take their life.
"Leadership and staff at all of our facilities are dedicated to ensuring Veterans who come to VA for help can have confidence in their care and treatment," Walls said, adding that veterans having suicidal thoughts or thinking of harming themselves should call the Veterans Crisis Line at 1-800-273-8255 and press 1 for confidential help.
An awesome guy
Today, Margarita Reyes is determined to make sure her brother is not remembered as a statistic. She says she wants people to remember him as the kind, humble and courageous man he was. The kind of man who once pulled over for a homeless person one day, pulled a jacket out of his truck, and gave it to him. He even moved in with his sister-in-law to help the family take care of the house while she battled stage-four cancer.
Just a few months ago, his sister received an email Reyes sent to the older brother of one of his comrades. He had just lost his brother to suicide and Reyes wanted to offer support for one of his comrades.
"I often think of the pain you and your family must feel," he wrote. "You have my deepest sympathies. I'm terribly sorry about the loss. I hope it gets better in some way for you all."
His sister said the letter offered her comfort, because it embodies him.
"He never wanted anyone to know how awesome he was," she said.