Exclusive photo shows ISIS leader's sister-in-law held in Kurdish prison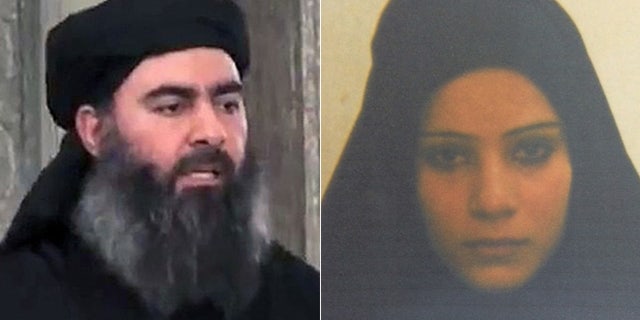 ERBIL, Iraq – The sister-in law of self-professed Islamic State "caliph" Abu Bakr al-Baghdadi is being held in a Kurdish prison following a failed suicide bombing attack several years ago, and FoxNews.com has obtained an exclusive photo of the VIP terrorist.
The 24-year-old woman, Duaa Amid Ibrahim, is the sister of one of Al Baghdadi's three wives, and has been held by Kurdistan Regional Government (KRG) security forces since she was caught entering Erbil with a suicide vest beneath her burqa. Kurdish authorities say she was sent by Al Qaeda on a mission that long predated her brother-in-law's rise to power. Now that Baghdadi is arguably the most powerful terrorist in the world, Ibrahim appears to have major clout behind bars.
"Her mind might have changed from wanting to be a suicide bomber, but her ideology is still the same."
"She is very popular, the other women really like her," said a KRG official, who said years behind bars has done nothing to soften her radical beliefs. "Her mind might have changed from wanting to be a suicide bomber, but her ideology is still the same."
Ibrahim was a teenage widow of an Al Qaeda fighter when she was arrested, and bears a tattoo of his name on her right index finger. When a FoxNews.com reporter recently visited Erbil, Ibrahim refused to leave her cell to be interviewed. Kurdish authorities did provide FoxNews.com with a photo of her.
A high-ranking intelligence and security official from Erbil's security agency Asayish who spoke on the condition of anonymity said Ibrahim's case is still proceeding through the legal system, although it is likely she will receive a life sentence.
Ibrahim is regularly monitored by the international Red Cross along with dozens of other jailed female jihadists in compliance with international laws. She even has a television in her cell that allows her and other inmates to follow the bloody exploits of ISIS and the international community's efforts to stop the black-clad jihadist army. ISIS' Iraqi stronghold in Mosul lies just 55 miles west of Erbil, and the Kurdish Peshmerga forces clash almost daily with ISIS along the frontlines.
Ibrahim's infamous brother-in-law rose through the ranks of Al Qaeda's Iraqi arm following his release from the U.S.-run Camp Bucca detention center in southern Iraq in 2004 when he was known as Ibrahim Awad Ibrahim al-Badry. It is not known if he played a role in the plot that would have killed his sister-in-law, the sibling of Saja al-Dulaimi. Al Dulaimi is one of three – and the most prominent - of the terrorist kingpin's wives and has been referred to in local reports as "caliphess" or "calipha."
Al Baghdadi announced his split from Al Qaeda and the formation of ISIS in August, 2013. Even as the terrorist group seized power, land and international headlines, the Kurds had no idea that the failed suicide bomber they had captured five years earlier was a close relative.
The connection was made soon after the Lebanese Army detained Al Baghdadi's wife and son as they crossed from Syria in late 2014. While there were conflicting reports at the time about whether Al Dulaimi was still married to the ISIS chief, she was seen as a crucial source of intelligence about the mysterious Al Baghdadi, whose history and current movements are so mysterious and guarded that they have taken on a mythical aura.
Al Dulaimi was released late last year in a prisoner exchange in which the Lebanese government brought back Lebanese soldiers imprisoned by Al Nusra Front, Al Qaeda's Syrian arm. No such exchange has been proposed for Ibrahim.
Authorities would not say what, if any, information Ibrahim has provided about her brother-in-law. Given the duration of her captivity, whatever information she may have may be of little use. Despite periodic rumors of his death, Kurdish officials believe he is alive and shuttling between the Iraqi cities of Mosul and Ramadi. He has not been seen publicly since the summer of 2014, when video surfaced of him speaking at a mosque in Mosul and demanding all Muslims obey him.
"We're getting some more source information, but it is not easy to find him," said a Kurdish official.