Escape from ISIS: Yazidi woman recounts life as a sex slave
When ISIS laid siege to the Yazidi villages that dot Iraq's Mount Sinjar in 2014, members of the religious minority soon learned neighbors they'd known for generations were not their friends after all, according to one woman who was recently rescued after more than a year in the terrorist army's clutches.
From the very first days of the August 2014 siege, the Yazidi community began to lose hope as they descended from their mountain home into a nightmare of misery and death. Muslim families they had lived side-by-side with for generations turned on them, "Zana," a 32-year-old Yazidi woman whose freedom was purchased from ISIS in March, told FoxNews.com in a Skype interview from the Kurdish-run camp where she now lives.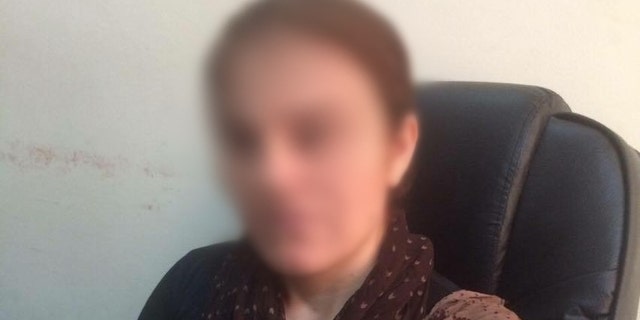 "When ISIS came they said they didn't want to fight us, they told us to give them our weapons," Zana said. "We gave them everything we had – these were our Muslim neighbors. But so many of them had become ISIS and we didn't know."
In a story similar to that told by dozens of Yazidis, Zana recalled the day ISIS assaulted her village at the foot of Mount Sinjar. The elderly were summarily executed where they were found, she recalled. Men and women were separated, with older men dragged off to mosques where they were killed and females – including girls as young as 8 -- loaded onto cars and trucks bound for Mosul.
"ISIS took me, my sister, my brother's wife and my little sister," Zana recalled, her eyes filling with tears. "For 13 days, we were put in a school – we didn't know what would happen. There were about 50 people – women and children – squashed into a room. There was no water for us to wash ourselves, the children were sick."
Her nightmare was just starting.
Zana lied to her captors that she was married, thinking somehow it might spare her from their evil intentions. Her captors were unmoved, and she and dozens of others were taken to a well-guarded building in the Iraqi city of Telafar. Yazidi girls under the age of 14 were taken away to be sold at auction. The remaining women were soon introduced to ISIS fighters and told they were now their property and would accompany them to Syria.
ISIS justifies killing, raping and enslaving Yazidis by calling them "devil worshippers," as their very ancient religion blends elements from all the Abrahamic faiths. Yazidi are ethnically Kurds, but follow a pre-Islamic faith. Of the 500,000 Yazidi in Iraq, more than 200,000 have been displaced or killed since the rise of ISIS, according to the United Nations.
Zana told FoxNews.com she managed to escape her quarters in the dead of the night, and related how she knocked on a stranger's door to beg for help.
"I asked them, 'Please give me a phone to call my relatives, I don't need anything from you. I just want to call my relatives,'" she said.
The family refused to help her contact relatives, but made her work in their home for nearly a week, she said. Then, they turned her back over to her tormentors, she said.
"They called and said, 'There is a girl who wants to escape, she is with us, come and take her,'" Zana said. "So ISIS came. And I cried."
Her angry captors put her in a prison cell while an investigation was conducted into how she was able to escape. Days later, she was transferred to another facility in Telafar and forced to convert to Islam under threat of death, she said. She witnessed a dozen fellow Yazidi captives' executions, punishment for their own escape attempts, she said.
Zana and another woman were given to a jihadist and sent to live with him in the ISIS stronghold of Mosul.
"He took me to his place, they were flats. Small tourist flats. It was a tourist community," Zana said, her eyes cast down.
It was there, Zana said, that she was raped for the first time. For the next five months, she remained inside Mosul, handed off to another militant who locked her in a small room.
"I cooked for him, I washed his clothes, and I cleaned the house. I did everything," Zana said. "But he became very aggressive if I didn't do something just as wanted, and he would attack me.
"I told him that they might be killing our people now, but one day we will get to take our revenge," she said.
In the ensuing months, Zana was passed along by a string of ISIS fighters from different Arab countries, and shuffled from city to city, including the ISIS capital of Raqqa, Syria. When she was sent to Iraq's Anbar Province, west of Baghdad, she managed to lock eyes with a civilian woman.
"I whispered my number to her and said, 'Please call me family,'" Zana recounted. "She told me not to worry. They knew a guy who could help rescue me."
But rescue missions don't come cheap, as rescuers often need to pay off local tribesmen or hatch elaborate plans to buy girls back from their captors. Scores of Yazidi families have gone into tremendous debt selling what little they have to liberate their stolen loved ones, but have received some assistance from the semi-autonomous Kurdistan Regional Government (KRG) in the northern part of Iraq.
In Zana's case, thousands of dollars were scrambled together and she was "bought" by a rescuer known to her family. On March 22, 2016, she was freed.
Now living in a sprawling camp for displaced Yazidi in the northern Iraq city of Duhok, which is part of the semi-autonomous Kurdistan Regional Government, Zana feels the pain of loss and the scars of her ordeal. Both of her parents died at the hands of ISIS and her sisters were taken.
"It's a tough situation," she said. "But I'm still here."