Environmental Group Nuestro Rio Says Fate of Colorado River is a Latino Issue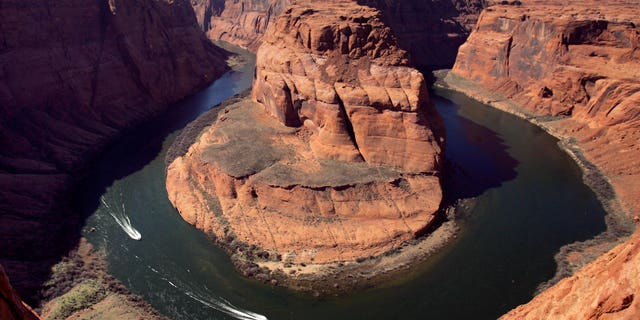 A newly formed Latino group is working to promote conservation efforts along the Colorado River as the water resource, which runs through seven U.S. states, has experienced more than a decade of drought.
Officials with the network, Nuestro Rio, say they hope to ensure Latino involvement in discussions about the future of the river, as well as the balanced distribution of its precious water supply.
"We all are invested in this," said Nita Gonzales, president and CEO of Escuela Tlatelolco, a nonprofit private school in Denver involved in the effort. "Its health and success should benefit all of us equitably."
Amber Tafoya, a Denver-based attorney, said other organizations include nonprofits Mi Familia Vota, Colorado Latino Forum and the Cesar E. Chavez Foundation. She said the network is currently focusing on what it considered to be swing states in Colorado, Nevada and New Mexico, but it will expand to include the other four U.S. states in the Colorado River Basin. The organization received a grant from the Walton Family Foundation.
Nuestro Rio states it has gathered more than 10,000 signatures across all seven states, saying in a letter to Department of the Interior Secretary Ken Salazar that the river and its tributaries "have been at the center of Hispanic life for centuries." The petition warns "chronic drought, climate change and increased demand are drying up the Colorado River Basin that we all depend on."
The basin supplies municipal water for more than 30 million people and irrigates nearly four million acres of farmland in the U.S. and Mexico. Beginning in Colorado, it runs for more than 1,400 miles through the southwestern U.S. and parts of Mexico toward the Gulf of California.
In January 2010, the Bureau of Reclamation began a study of the basin's water supply, as well as its demand, to determine current imbalances in the system and risks to the watershed. The study, which according to the bureau could inform policy for decades, is expected to be complete by July 2012.
Officials with Nuestro Rio say they hope to influence the department while the study is underway. "We as Latinos want to be included in these important decisions that affect all of us," Tafoya said.
Barry Wirth, a spokesman for the bureau, said in an email statement the bureau is "always eager to work with individuals and groups that are interested in the overall welfare of the Colorado River system."
He said: "We expect the completed study to significantly increase our knowledge of supply and demand placed upon the river system and to therefore provide managers with a much improved knowledge base to draw upon in decision making."
Matthew Rodriguez is a reporter for the YourHub section of The Denver Post.
Follow us on twitter.com/foxnewslatino
Like us at facebook.com/foxnewslatino