Embattled Mexican governor to step down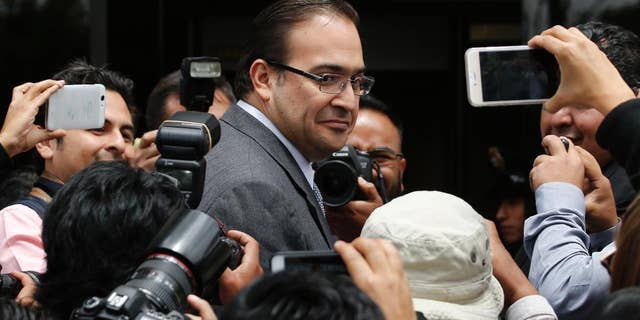 MEXICO CITY – The embattled outgoing governor of an eastern Mexico state who faces federal corruption investigations said Wednesday that he will step down almost two months before his term ends.
Veracruz Gov. Javier Duarte made the announcement in an interview with the Televisa network.
"Precisely due to this situation (of allegations), I have decided today to ask the state congress for leave from the position of state governor," Duarte said. "(Veracruz) needs a full-time governor ... And I need time exactly to address these complaints."
Mexico's ruling Institutional Revolutionary Party stripped Duarte of his party rights last month. In June, it lost the gubernatorial election in Veracruz for the first time. Duarte had become a powerful symbol of alleged corruption that the national party feared could drag it down ahead of 2018 presidential elections.
Duarte is widely criticized for his administration's alleged corruption and the unsolved killings of at least 16 journalists during his six years in office. Families comb the hills looking for secret graves and any other traces of their missing loved ones.
The Zetas and the Jalisco New Generation cartel battle for supremacy, leaving their own bloody imprint on Veracruz state.
Last month, the federal Attorney General's Office announced that it was taking over two corruption investigations involving the outgoing governor. Duarte and others were being investigated for illegal enrichment, embezzlement and breach of duty.
On Wednesday, Duarte denied allegations of links to dozens of phantom businesses that the federal tax authority has identified as winning state contracts. He said he had not stolen a single peso from government funds and he denied diverting government funds to overseas destinations.
"I don't have foreign accounts, I don't have properties anywhere," Duarte said.
Governor-elect Miguel Angel Yunes made punishing Duarte a centerpiece of his campaign.
Yunes promised on Wednesday that once he takes office on Dec. 1 he will make public the evidence he says will show how the state's coffers were looted under Duarte, who originally was to serve until Nov. 30.
"Javier Duarte goes with full pockets and leaves Veracruz burning," Yunes said.