Election winner Abe faces Japan jobs challenge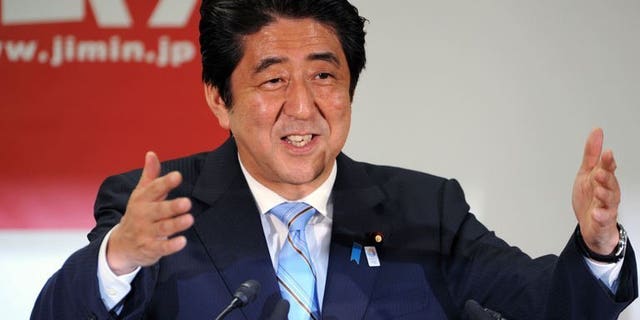 TOKYO (AFP) – Economic reforms aimed at reanimating Japan's sagging economy will be top of premier Shinzo Abe's to-do list after his weekend victory in upper house polls tightened his grip on power.
With control over both legislative chambers, Abe now has a strengthened hand to face down vested interests in his often factional Liberal Democratic Party at a time when the Japanese labour market is ripe for change.
But where one camp sees a need for greater job security in a country of nervous and spendthrift consumers, another says too much worker protection is the root of much of the malaise that has beset Japan for the last two decades.
"When I heard Mr. Abe talking about 'decent work', I thought it was a joke," said Makoto Kawazoe, an official of the General Union of Young Workers in Tokyo.
"What he's trying to do is exactly the opposite of decent work, something that will increase insecurity among workers," he said.
As Japan's economy roared to life after World War II, its companies struck a bargain with their staff: you commit to working hard for us and we will give you a job until retirement.
Lifetime employment served Japan well; it produced wealth, powered growth and provided a large measure of order in a place that prizes stability and harmony.
A raft of protections grew up around the concept, guaranteeing the rights of workers.
But, say economists, since Japan's economy stopped its upward march at the end of the 1980s, firms that are no longer world beaters have been left bloated with un-needed staff.
"In a greying society where demand for goods is weak, Japan needs to shift its industry from manufacturing to services," said Yoshimasa Maruyama, chief economist at major trading house Itochu.
However, under current sclerotic labour rules, it is hard to shift workers, he said.
Abe says the key is helping firms make the transition.
"We will provide money for job training that would prompt greater labour mobility from mature sectors into growing sectors," Abe told journalists earlier this month.
Advocates of a labour rules rejig say as well as benefiting companies, this will be a boon for workers.
They say that if a company knows it has some wiggle room once someone is in a job, they will be more likely to take on new employees on a permanent basis, reversing the trend of recent decades.
Temporary workers now account for around 35 percent of the entire national workforce.
As well as having little security, they also have less money. On average, a temporary worker earns 3.1 million yen ($31,000) a year in salary and bonuses, less than two-thirds what someone on a permanent contract is paid, according to figures from Japan's National Tax Agency.
With more money in their pockets, workers will have more to spend, giving Japan's companies more customers. That will raise the tax take and help Japanese government finances.
"We will seek to realise decent work, that is, the creation of jobs that have humane working conditions and are rewarding," Abe's cabinet declared last month.
Among these conditions are a designated workplace or job category -- that potentially means a company can get rid of employees more easily if the particular job category is no longer required.
Under the current labour rules, managers have to keep them on, which may mean sending them somewhere else in the country. If they want to keep their job, employees must accept any role their company gives them.
That frequently means husbands are away from their families for the working week while they are stationed elsewhere in the country.
This change is also aimed at improving the low rate of female participation in the workforce, say advocates, because a more predictable job category and workplace could create jobs that are easier for mothers to balance with childcare needs.
Tokyo labour lawyer Ryo Sasaki welcomes talk of labour law reform, but cautions that new rules cannot just be framed for the benefit of companies.
"If you want to loosen rules of firing, you also need to tighten rules on working conditions," he said, adding there needed to be a focus on overtime.
"Many people who have come to us recently have problems with jobs that have long hours and low pay," he said.
Hisashi Yamada, chief economist at the Japan Research Institute, concurs.
"In Japan, permanent workers have been heavily protected while non-permanent workers have seen insecurity," he said. "A balance between labour flexibility and security is the key."