El Patrón And El Chapo: Without Its Feared Leader, Will Sinaloa Cartel Go The Way Of Pablo Escobar's Empire?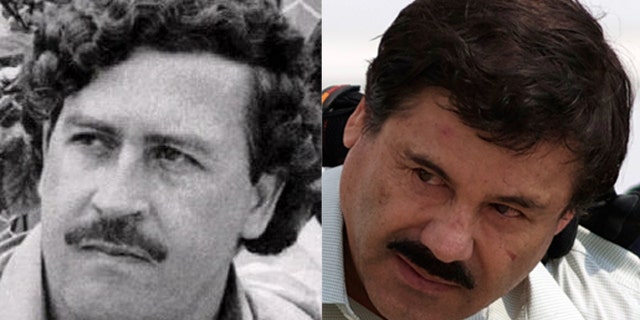 NEWYou can now listen to Fox News articles!
Not since the killing of Colombian drug lord Pablo Escobar has an arrest or death of narcotrafficker drawn as much as public global attention as the capture of Sinaloa Cartel boss Joaquín "El Chapo" Guzmán in Mexico this week.
Escobar and Guzmán were the most infamous and successful drug traffickers of their time – controlling drug networks stretching from South America to the United States and Europe, amassing billions of dollars in personal wealth and leading authorities across the globe on a seemingly futile manhunt. Despite these similarities, however, the two narco kingpins ran contrasting types of organizations, employed much different tactics and operated in two very different worlds.
"Both Escobar and Chapo were the most renowned and powerful drug lords of their era," Shannon O'Neil, a senior fellow at the Chicago-based Council of Foreign Relations, told Fox News Latino by email. "But the two operated in different times and different environments."
While anyone who has the ability to run a multi-national, billion-dollar business – let alone one as ruthless as in the drug trafficking world – has to have a strong business sense, many experts argue that Guzmán tops Escobar when it comes to entrepreneurship.
Guzmán thinks on a much more global scale than Escobar and was able to use negotiation skills to expand his business to the United States, Europe and even Australia, where Escobar relied more on intimidation and brutal tactics to get what he wanted. That is not to say that Guzmán's Sinaloa cartel was not violent, but that it was treated more as a business and less as an illicit operation, said Phil Jordan, the former director of the U.S. Drug Enforcement Administration's El Paso Intelligence Center.
"'El Chapo' is the Don Corleone of drug lords," Jordan said in an interview with Fox News Latino, referring to Marlon Brando's character in the Godfather movies. "He was better than Escobar and the Sinaloa cartel was more of a business than a bunch of gangsters."
Another difference between to the two traffickers is the time and countries in which they operated.
During the 1980s and 1990s, Escobar was able to expand his power within Colombia – even going so far as to be elected to Congress – for a number of factors.
Deep political divides, a weak central government, rampant corruption and a decades-long civil uprising by left-wing guerrillas, all stretched Colombia's lawmakers and military forces thin. Paired with the advent of the transnational drug trade, it was like a perfect storm to empower Escobar's Medellín cartel to flourish.
Guzmán' Sinaloa Cartel has not had it so easy.
Formed from the ashes of the Rafael Caro Quintero's Guadalajara Cartel in the late 1980s, Guzmán dealt with a stricter eye on the drug trade from the neighboring United States, years of imprisonment, and haggles with corrupt Mexican officials and infighting within his own group for power. While Guzmán was able to make deep inroads with some Mexican lawmakers, his hold was never as strong nor as far-reaching as Escobar.
"Chapo's defiance of the government was never as public as Escobar's, nor was his control over the Sinaloa cartel as personal and centralized," O'Neil said.
Despite general agreement over the similarities and differences between the two drug lords, one unpredictable factor is what will happen to the Sinaloa Cartel, and Mexico, now that Guzmán is in custody.
Following the death of Escobar on a Medellín rooftop in December of 1993, the cartel he ran went into a tailspin as turf wars broke out for control over the organization and its splinter groups with high levels of violence not abating until at least the early 2000s.
While it remains to be seen whether and how much the Sinaloa Cartel will be impacted by Guzmán's capture, Mexico experts forecast a couple of likely scenarios.
The future of the cartel may hinge on whether or not Guzmán is extradited to the United States to face myriad charges. He's wanted in at least seven states.
While Mexican authorities have filed charges against him, Mexico's Secretary of the Interior Miguel Angel Osorio Chong has left open the option that Guzmán could wind up in U.S. custody. If so, Guzmán will be severely handicapped in what he can do in terms of running the cartel and it is believed that power will be transferred to his lieutenants Ismael "El Mayo" Zambada or Juan José Esparragoza.
But if he remains in Mexico, some experts believe that he will still be able to run the organization while incarcerated.
"If 'El Chapo' goes to jail in Mexico, nothing in the cartel's operations would change," Jordan, the former DEA administrator, told Fox News Latino. "He will just be like the chairman of the board and somebody like Zambada will just run day-to-day operations."
Some, however, doubt that life for Guzmán would be that easy, arguing that now that he is captured, Mexican authorities will make sure that he remains behind bars, unlike his daring 2001 escape from prison in a,laundry basket.
"The worst thing for Mexico would be Guzmán to escape," said Christopher Wilson, with the think tank, Mexico Institute. "That would be even worse than not capturing him at all."
The crux of the cartel's future, noted Wilson, lies with how Mexican and U.S. authorities use shared intelligence to go after other high-ranking members of the organization.
If capos like Zambada and Esparragoza are captured, the cartel's demise will happen very quickly, but it will also lead to a spike in violence as smaller groups begin small turf wars similar to those in the immediate aftermath of Escobar's death.
"There will be more violence if the top level guys are taken down and the smaller groups fight for control," Wilson said. "But this also becomes an easier problem for Mexico to deal with as it becomes more of a local issue than a national one."