Eight Sinaloa Drug Cartel Bosses Sanctioned By The U.S. Treasury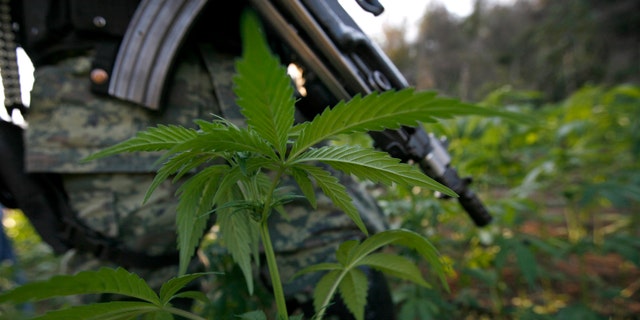 Eight drug gang bosses accused of working for Mexico's powerful and violent Sinaloa Cartel will have their U.S. assets frozen and will not be able to do business with American citizens, according to a new measure announced Tuesday by the Treasury Department.
The government accused the eight regional bosses of managing drug smuggling operations for Joaquin "El Chapo" Guzman, the purported head of the Sinaloa Cartel.
Seven of the men — Armando Lopez Aispuro, Guillermo Nieblas Nava, Felipe de Jesus Sosa Canisales, Raul Sabori Cisneros, Ramon Ignacio Paez Soto, Jesus Alfredo Salazar Ramirez and Jose Javier Rascon Ramirez — are believed to run smuggling operations in the Mexican state of Sonora, which borders Arizona.
Cenobio Flores Pachecho is accused of being in charge of smuggling efforts in Mexicali, across the border from California.
"These eight individuals are the gate keepers. These are the last eight people to have control of (drugs and other contraband) before it hits the streets of our communities," said Carl Pike, the assistant special agent in charge of the Drug Enforcement Administration's special operations division. "This is a huge step forward."
Adam Zubin, the head of the Treasury Department's Office of Foreign Assets Control, said the government has sanctioned 15 accused individuals of the Sinaloa cartel since last year.
Guzman, one of Mexico's most wanted persons, was designated a drug kingpin by the U.S. more than a decade ago. Despite that, he has still managed to amass a fortune estimated at more than $1 billion. His cartel has also managed to remain largely intact despite years of fighting with the Mexican government and rival drug trafficking groups.
But Guzman's criminal group hasn't been unscathed. Several high-ranking members have been arrested or killed. Last month Guzman's father-in-law, Ines Coronel Barreras, was arrested by Mexican authorities in Agua Prieta, across the border from Douglas, Ariz. Coronel has also been the subject of U.S. government sanctions.
Pike described the Sinaloa Cartel Tuesday as "the oldest and probably right now the best established cartel."
"Others are suffering in-house fighting. As the others weaken, obviously the Sinaloa Cartel will grow stronger," Pike said.
Based on reporting by The Associated Press.
Follow us on twitter.com/foxnewslatino
Like us at facebook.com/foxnewslatino