Egypt's Christians Uneasy About Future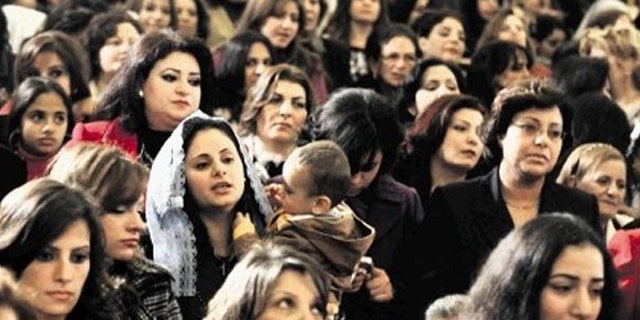 CAIRO, Egypt – There is hope and fear at St. George's Coptic Church in a northern neighborhood of Cairo. Just down the block from a mosque about 150 Coptic Christians attended Mass.

The Church's regional leader, Pope Ava Marcos said, "all Egyptians wanted the revolution to happen," admitting, "anyone who dared to speak would vanish." Many Coptic Christians like high school student, Fadi Atef, welcome the change in government and hope it will bring the country together.
"Christians and Muslims are Egyptians," he said, "we don't feel the difference."

But religious tension is on the rise between Egypt's 8 million Christians, most of whom belong to the Coptic Orthodox church, and the country's overwhelmingly Muslim majority. For years Christians who comprise about 10 percent of the population, have complained about government sanctioned discrimination. Last month a suicide bomber linked to Islamic extremists killed 21 Christians at a Coptic Church in Alexandria.

Although there is hope a new government will heal old wounds, many Christians are worried about the future role of the Muslim Brotherhood. The previously banned group - which calls for strict adherence to Islamic law - is creating its own political party. Although a spokesman for the group said it would not take part in presidential elections, it planned to put forward a slate of candidates for parliament.

Congregation member, Milad Farahat, hoped that by involving the group in government, the Muslim Brotherhood would improve the quality of life for all Egyptians. He said, "There is no doubt that the Muslim Brotherhood represents a big segment in the society. It is better that they work politically for the benefit of the country."

But Coptic Priest, Emile Mikhail Mitri admits to being worried that if voted into power the Muslim Brotherhood will further erode the rights of Egypt's Christians -- the largest Christian community in the Middle East.
"Their agenda does not make it certain that they will run the country democratically," he said. "There is a percentage of fear among Egyptians."

A mood of cautious optimism prevails, especially among the younger members of the congregation. Fati Atef, who is preparing for college believes changes in the country will make it easier "to find jobs and have a better future."

Coptic Christian leaders meanwhile are calling for laws to be changed to provide more religious freedom. Church officials have asked the ruling military council to be included in an eight person government panel, preparing recommendations on changes to the constitution. The panel already has a representative from the Muslim Brotherhood.