Egyptian police to break up pro-Morsi protest camps Monday, sources say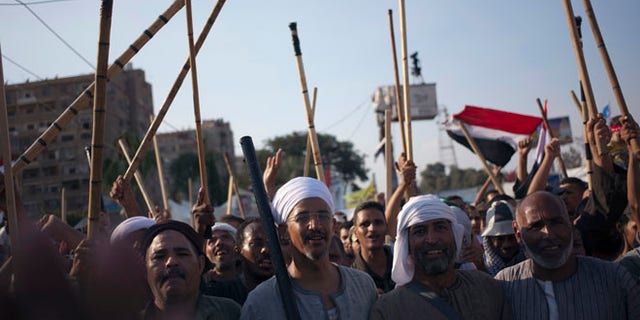 Egyptian police on Monday are expected to start breaking up protest camps that have been the catalyst of clashes between the army and pro-Morsi supporters, security and government sources told Reuters.
Mohammed Morsi was ousted as Egypt's president on July 3, and tens of thousands of his supporters have been rallying daily at two sit-in sites in Cairo. They demand his reinstatement, restoration of the suspended constitution drafted under Morsi and the return of the disbanded Islamist-dominated legislative council.
"State security troops will be deployed around the sit-ins by dawn as a start of procedures that will eventually lead to a dispersal," a senior security source told Reuters.
The decision to break up the protest camps was made after a meeting between Egypt's Interior Minister, Mohammed Ibrahim, and his aides, another security source said.
Organizers of the sit-ins have brought games and other diversions to the sites, hoping to continue to draw crowds, including children. Meanwhile, guards carrying sticks and wearing hard hats still stand guard behind barricades, hinting that any attempt to end the sit-ins by force could turn bloody.
Dozens of Morsi supporters were injured in clashes with anti-Morsi crowds and security forces on Friday during marches across Egypt.
A security official said 28 people, including three policemen, were injured in clashes in Fayoum, south of Cairo. He told The Associated Press that security forces fired tear gas and birdshot at Brotherhood supporters who tried storming the province's security services headquarters.
The official spoke on condition of anonymity as he wasn't authorized to speak to journalists.
The Associated Press contributed to this report.