Egyptian Christians allege torture at hands of Libyan Islamists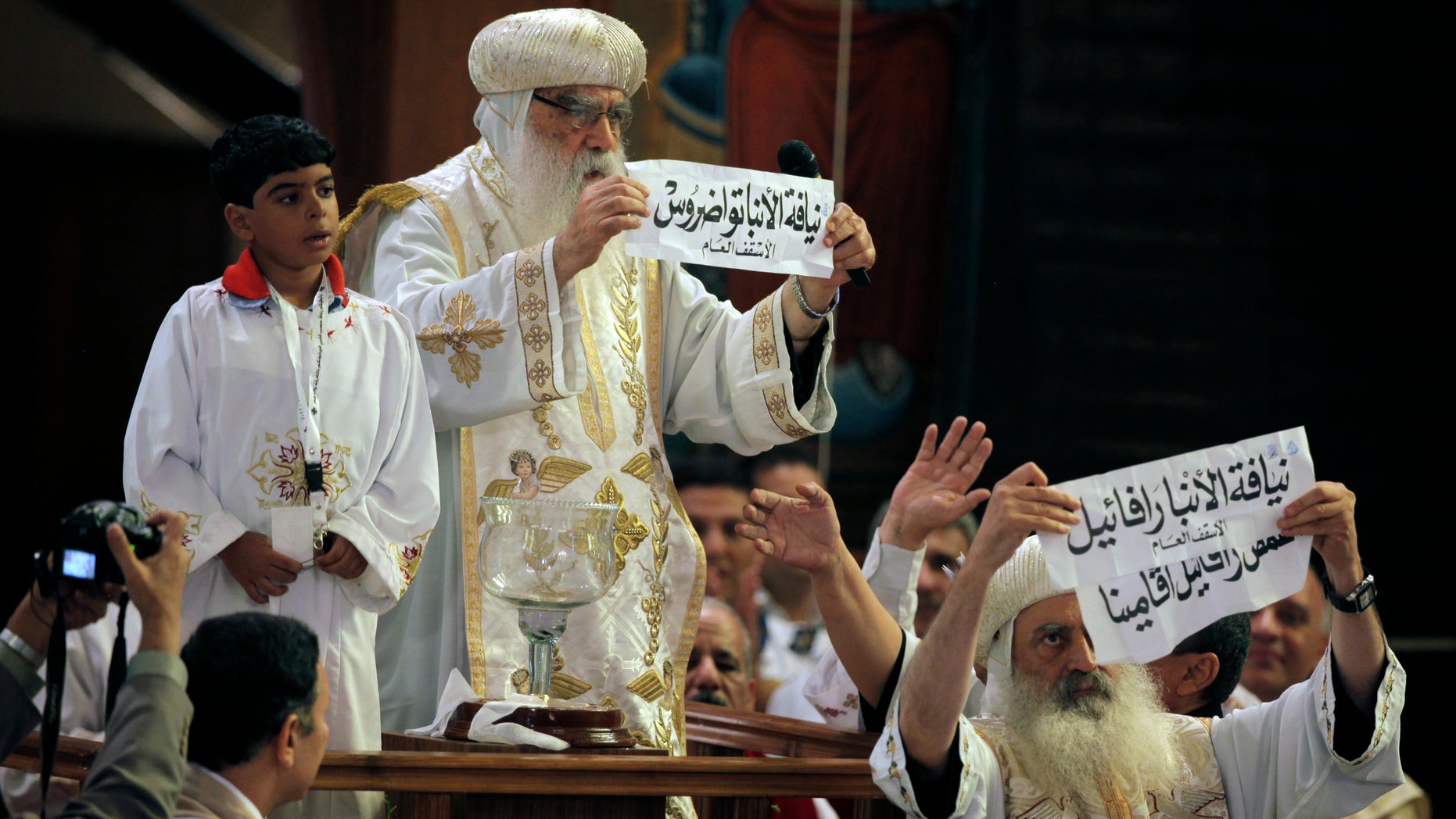 Libyan Islamists detained 48 Egyptian Christians in Benghazi last week, torturing them and using acid to burn off tattoos of the cross, according to family members.
The Christians, who are peddlers, were arrested by Islamist Salafists in Benghazi, who said they had Christian icons at their marketplace stalls, according to Mideast Christian News. The men were later reportedly freed and await deportation, but their family members back home told the Egyptian press they were abused while held, initially on charges of proselytizing.
"When the residents of the village told me that he was imprisoned, I embraced his sons and told them they would not see their father again," Fardoos Salib, the mother of Coptic farmer Atif Kamel, told Egyptian newspaper al-Watan.  "I prayed in the church, until God responded and he was released, as God knows our conditions."
Activists in Libya last week posted photographs on Facebook showing the Egyptian Copts under detention. A video later seized by police showed the Egyptian Christians locked in a small room and guarded by bearded Salafists. Many appeared to be cut and bruised, and all had had their heads shaved.
[pullquote]
The detained Copts had been tortured by their captors, who had also shaved their heads and used acid to burn off the crosses tattooed on their wrists, a source told Ahram Online.

Kamel told family members he was subjected to electric shocks and forced to clean toilets, as his jailers assaulted him and mocked his religion, according to his family. Kamel has a wife and two children in Egypt, but went to work in a Benghazi vegetable market in order to provide for them.
Benghazi residents have expressed outrage at the hardcore Salafists, who are believed to have been behind the Sept. 11 attack on the U.S. Consulate that killed four Americans, including Ambassador Chris Stevens.
Repression of Christians living in Libya is on the rise, according to human rights watchers. In mid-February four foreigners -- an Egyptian, a South African, a South Korean and a Swede with a U.S. passport -- were arrested on charges of distributing Bibles and other religious material.
Several Catholic religious orders that have operated within Libya for decades, serving at hospitals and in elder care, have been driven from the country in the wake of its revolution. In January, the Franciscan Sisters of the Infant Jesus left Barce and the Ursuline Sisters of the Sacred Heart of Jesus left Beida, both citing pressure from Islamists. In October, nuns from the Convent of the Holy Family of Spoleto in Derna were forced to leave Libya amid continuous threats from Islamic extremists.
Egyptian Copts living in Libya say diplomats from their homeland do little to help their cause. Kamel said that despite Copts facing persecution from armed authorities, the officials from Egypt's embassy ignored them.

Kamel's uncle, Khalaf Naguib Salib, said the Copts detained by Libya are mostly illiterate and don't know the meaning of proselytizing.

"I say to Egypt's president, his government and Foreign Ministry, that during Mubarak's term we felt we were second-class citizens," Salib said. "This has deteriorated even further under the Muslim Brotherhood. What is the position of Egypt's president on the violations committed against the expatriate Egyptians? Where is the freedom and justice? Why do we respect foreigners in our country when they violate our dignity in their countries?"