Egypt to hold new presidential elections first amid growing calls for army chief to run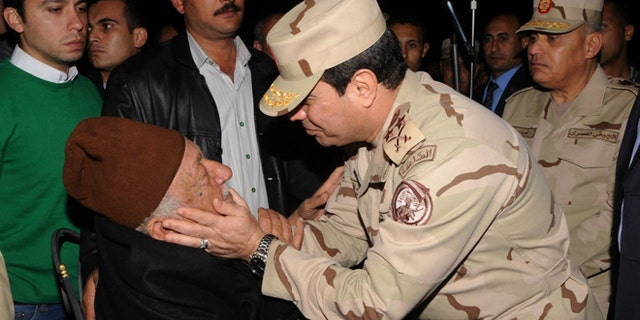 CAIRO – Egypt's interim president announced Sunday that the country will hold presidential elections before parliamentary polls, promising that a rise in "dark terrorism" won't derail a transition to democracy following a July 3 popularly backed military coup.
The announcement, expected after weeks of speculation, comes as many think army chief Gen. Abdel-Fattah el-Sissi will run for president after leading the coup that toppled Islamist President Mohammed Morsi.
But Egypt remains dangerously divided, as seen in clashes Saturday that pitted security forces and civilians who back the interim government against Morsi supporters, killing 49 people. There has also been a rise in militant attacks, including one on Sunday that killed three soldiers in the country's lawless Sinai Peninsula.
In a brief nationally televised speech, Interim President Adly Mansour said he will ask Egypt's election commission to open the door for presidential candidates to register. Egypt's newly adopted constitution calls for the first election to be held within 90 days of its passage, or before the end of April, with the parliamentary polls held before the end of July.
There have been growing calls for el-Sissi to run, with many among Egypt's turmoil-exhausted public saying only a strongman can deal with the country's myriads of problems, like restoring stability and legitimizing the interim government installed after Morsi's ouster.
"The country needs a strong president, more than it needs a parliament or elected lawmakers," said Omar Gamaleddin, a Cairo resident. "This is a good decision."
The head of Al-Nour, the ultraconservative Islamist Salafi party, said putting the presidential election first is the consensus among political groups in Egypt. Younes Makhyoun told The Associated Press that his party had campaigned for keeping parliamentary elections first, but has accepted the majority decision.
"We would have preferred a parliament first so that the coming president doesn't combine legislative and executive powers at the same time," Makhyoun said. "We must now think of the future. ... The declared goal is that the people now need a president more than a parliament to have the leadership necessary to achieve stability."
Makhyoun said his party has not yet decided whether it will back a potential el-Sissi bid for the presidency. He added that the next president is expected to deal with a number of challenges, including demands for social justice and more freedoms, as well as dealing with violent groups seeking to destabilize Egypt.
"We don't need a president to do everything alone. We want to establish the principle of a country of institutions, and not a president that works on his own," Makhyoun said.
The general has not yet made a formal announcement. He would have to quit his post as defense minister before launching a campaign for the presidency. Under the new constitution, a president can serve a maximum of two four-year terms.
Ecstatic crowds gathered across the country Saturday in government-sponsored rallies marking the third anniversary of the start of Egypt's 2011 revolution, with many openly calling for el-Sissi to run. But the celebrations competed with widespread clashes that struck across the country at the same time. Morsi supporters continue to contest the toppling of Morsi and his Muslim Brotherhood-backed government.
Saturday's clashes killed at least 49 people, health officials said Sunday.
The interim authorities have responded with an intense crackdown on the continued protests, and are facing a surge in terrorist attacks, which they blame on the Brotherhood and its radical Islamist allies. The government already has labelled the Brotherhood a terrorist group, a designation rebuffed by the group that insists it is pursuing peaceful means to challenge authorities.
An attack on military troops in the restive Sinai Peninsula killed three soldiers Sunday, the state news agency said. This follows a rise in attacks on police in and around the capital, including bombings Friday that targeted the main security headquarters in Cairo and security vehicles, killing six.
Mansour said Sunday that the rise in terrorist attacks against police and military will not derail the country's transition to democracy.
"These terrorist attacks aim to break the will of Egyptians," he said. "I tell those terrorists your despicable acts will not realize their goals."
He vowed that the government will fight the violence "relentlessly" and "mercilessly," and will not hesitate to resort to "exceptional measures" if need be. Some security officials have said the government may consider imposing partial curfews.
Mansour asked judicial authorities to increase the number of courts handling suspects in terrorism and violence-related cases— a way to speed up the prosecution of hundreds of suspects facing trials. Morsi himself is facing at least four trials on various charges, including inciting murder and conspiring with foreign militant groups to destabilize Egypt.
In a gesture appeared aimed to appease rising criticism from secular and liberal groups who had backed the interim authorities, Mansour also said he appealed to prosecutors to review the cases of detainees held without charges from protests, including university students, to ensure that those held for no reasons are released. Thousands are locked up following the intense government crackdown, including Morsi supporters and secular activists.