Driver of California bus that crashed, killing two, was not under influence, police say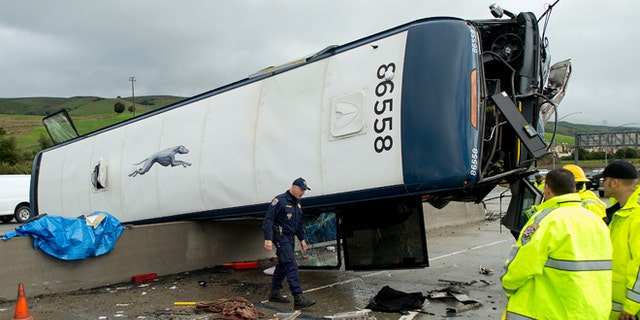 SAN FRANCISCO (AP) – A Greyhound bus driver who veered off a rain-slickened Northern California highway in a crash that killed two women and injured several others was not under the influence of drugs or alcohol, authorities said Wednesday.
State and federal investigators are looking into other causes of the Tuesday morning crash in San Jose, including driver fatigue.
The 58-year-old driver, who was briefly hospitalized, told investigators that he was tired and stopped for coffee about 30 miles before the bus plowed into safety barrels on U.S. 101 and flipped onto a center divider, California Highway Patrol Officer Christopher Miceli said.
An on-board camera was recovered from the wrecked 2014 MCI motor coach, but the video has not yet been viewed, National Transportation Safety Board investigator Jennifer Morrison told reporters at a towing yard in Gilroy where the bus is stored.
Federal investigators will examine the bus for mechanical and structure defects while looking into road conditions and the driver's actions before the wreck, Morrison said.
The force of the crash ejected Fely Olivera, 51, of San Francisco, and Maria De Jesus Ortiz Velasquez, 76, of Salinas, who both died at the scene, officials said. At least seven passengers were sent to area hospitals, with major to minor injuries, the CHP said. All are expected to survive.
Velasquez's grandson told news station KNTV in San Jose (http://tinyurl.com/zwasyn5 ) that she was returning home from visiting family in Tijuana, Mexico. Joel Ibarra said his grandmother had made the trek three times accompanied by family, but this trip was a solo excursion.
"She'd never done the trip on her own before," Ibarra said. "She wanted to stay a few days longer. And then, the worst happened."
The bus carrying 20 passengers left Los Angeles at 11:30 p.m. Monday with stops planned in Gilroy — where the driver got coffee — San Jose, San Francisco and Oakland, said Lanesha Gipson, a Greyhound spokeswoman.
Gary Bonslater began his shift in Los Angeles, and the company requires drivers to rest nine hours between trips, Gipson said. Bonslater has a clean driving record over the past three years and no history of drunken driving over the past 10 years, according to the California Department of Motor Vehicles.
Gipson declined to discuss Bonslater's driving history or employment record. Bonslater didn't respond to email requests for comment and a phone number for him could not be found.
Seven people have died in six Greyhound bus accidents over the past two years before Tuesday's wreck, according to federal transportation officials.
U.S. Department of Transportation data also show that the agency inspected 1,882 Greyhound vehicles and 3,065 drivers over the same period, DOT spokesman Troy Green said.
The other woman killed in Tuesday's crash had recently moved to the U.S. from the Philippines to be close to her children, her son said.
Antonio Olivera, 25, said his mother was traveling home to San Francisco from Los Angeles, where she had visited her other two sons. Fely Olivera was a stay-at-home mom who loved to take care of her family and had immigrated to California in September, her son said.
"I thought she would die from getting sick and not from being ejected from a bus," Antonio Olivera said. "I haven't seen her body. I'm still hoping it's a different person."
Like us on Facebook
Follow us on Twitter & Instagram