Dozens killed in fire at Cairo train station triggered by two conductors fighting
A deadly locomotive accident at Cairo's main train station Wednesday was triggered by a brawl between two train conductors, Egypt's prosecutor general has determined.
At least 25 people were killed and a further 50 were injured when a major fire erupted at the main train station in Cairo.
Prosecutor General Nabil Sadek said the conductor of the railcar that rammed into a barrier at Cairo's Ramsis station, causing an explosion, had left the vehicle without putting on its brakes.
He said the driver left to fight with another conductor who had blocked his way with the railcar he was driving.
"The driver left the railcar without taking any measures to brake it," Sadek said in a statement.
Earlier, eyewitness Mina Ghaly told Reuters: "I was standing on the platform and I saw the train speed into the barrier.
"Everyone started running but a lot of people died after the locomotive exploded. I saw at least nine corpses lying on the ground, charred."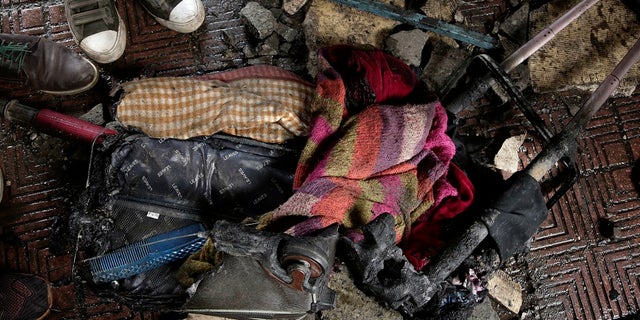 SUICIDE BOMBER KILLS 2 POLICE BY FAMED CAIRO TOURIST MARKET
Ibrahim Hussein, an eyewitness also told Reuters: "I saw a man pointing from the locomotive as it entered the platform, and screaming 'There are no brakes, there are no brakes' before he jumped out of the locomotive. And I don't know what happened to him."
Ahmed Abdeltawab said the platform had been crowded with people waiting for another train when "fire overwhelmed them and they ran while they were on fire until they fell meters from the incident."
AMTRAK TRAIN WITH 183 PASSENGERS IS MOVING AFTER BEING STUCK FOR 36 HOURS IN OREGON
Prime Minister Mostafa Madbouli visited the chaotic scene and said the cause of the collision had not been determined.
"We will identify who is responsible for the accident and they will be held accountable," he told the BBC.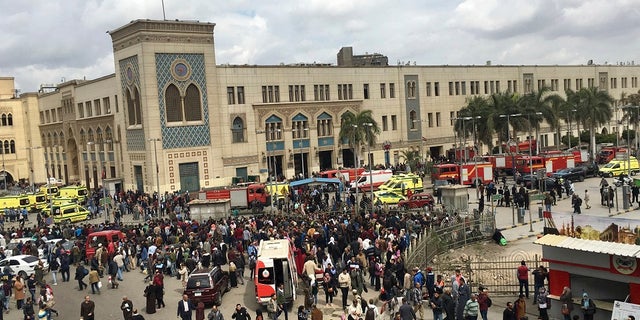 The country's general prosecutor, Nabil Sadek, has ordered an investigation into the deadly crash. Egypt has one of the oldest rail networks in the region, with accidents causing casualties being fairly common. All train departures and arrivals to the station have been suspended.
Ali Ramadan told Reuters he suffered burns and injured his foot when he ran into a concrete bench on the platform.
CLICK HERE TO GET THE FOX NEWS APP
"I don't know when these train accidents will end ... They told us they got millions of dollars' worth of new locomotives and trains, and people are still dying because of train accidents."
The Associated Press contributed to this report.