Dissent shakes new Central African government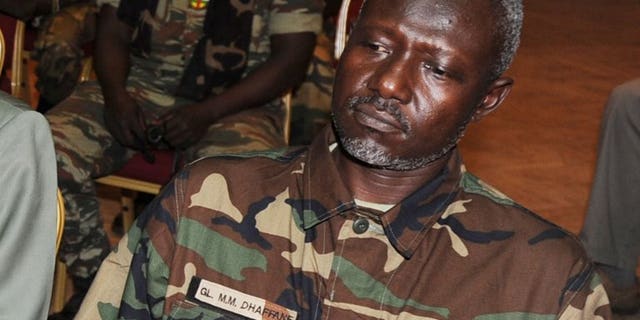 BANGUI, Central African Republic (AFP) – The new authorities in the poor, landlocked Central African Republic faced internal dissent Tuesday in Bangui, where a minister has been accused of recruiting mercenaries three months after rebels seized power.
The minister of water and forests, Mohamed Dhaffane, was sacked and questioned on Sunday, and then placed in detention without charge at the military camp in the capital, where transitional President Michel Djotodia resides, the government said late Monday.
Dhaffane, a general, heads the Patriotic Convention for the Salvation of Kodro (CPSK), one of the elements in Djotodia's Seleka rebel alliance which ousted president Francois Bozize in March and drove him into exile.
Dhaffane was accused of recruiting mercenaries and buying weapons. "When he arrived in Bangui, he began to recruit. For what reasons? We don't know," Communications Minister Christophe Gazam Betty said.
Gazam Betty told AFP that prosecutors planned to "look a little more closely" into Dhaffane's actions, but added that he had not been formally charged, "because he benefits from the presumption of innocence. He is not in prison either, I have seen him, he is fine."
But the minister added that Dhaffane "does not have freedom of movement. He is at the De Roux camp, for his own safety."
"Imagine if every minister started going around with pick-up trucks full of armed soldiers... recruiting and building up arms depots," Gazam Betty said, adding that several senior officials had stolen cars. "This is unacceptable, the president has told people not to do this, they have to set an example."
Dhaffane was also accused of having "a certain number" of houses, in various parts of Bangui, which he did not pay for, as well as between 20 and 30 vehicles.
The dismissed minister's sister, Zanaba Dhaffane, told AFP that she was telephoned on Sunday by Djotodia himself. "We learned soon afterwards that he (Dhaffane) had been arrested and was held at the De Roux military camp."
His youngest brother, Colonel Hamed Dhaffane, speaking to AFP before he was arrested himself, denied the accusations. "They are pure allegations. If he is not freed, we'll set fire to Bangui," he threatened.
Dhaffane's troubles came a few days after the release of a statement by members of the former rebel force, which he had signed himself.
This document called for an "inter-Seleka dialogue in order to obtain the consensus necessary for a (political) transition."
It also spoke out against "atrocities by uncontrolled armed elements (and) the marginalisation of the most important group of Seleka fighters and soldiers", as well as "robberies, looting and other grave crimes."
Three months after Seleka forces seized power in the unstable country, international non-governmental organisations warned that almost everybody in the country faced food shortages and health risks.
"The whole population of the Central African Republic, 4.6 million people, is affected by a severe humanitarian crisis in the wake of the coup d'etat and the political instability that followed," said a statement issued Thursday by a dozen groups including Action Against Hunger and Save the Children.
The relief agencies added that food and health issues were considerably worsened by rampant insecurity, killings and looting.
They also denounced many cases of rape and sexual abuse, particularly affecting children, and concluded that "the current humanitarian crisis is the worst the country has known".