Dennis Rodman: Ex-basketball star makes return trip to North Korea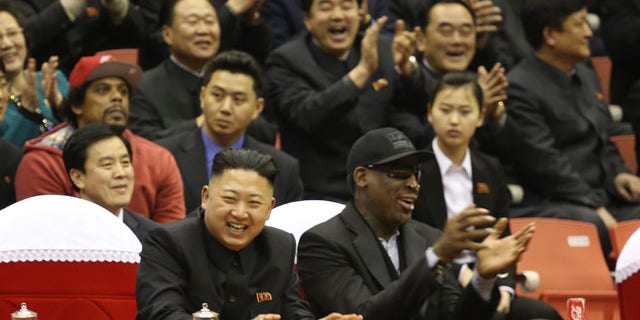 NEWYou can now listen to Fox News articles!
Basketball Hall-of-Famer Dennis Rodman will travel to North Korea for his first visit to the communist nation in more than three years, a senior Trump administration official confirmed to Fox News.
"He is going as a private citizen," the official said. "It's our understanding he hasn't landed yet."
The 56-year-old Rodman, who won five NBA championships as a player with the Detroit Pistons and Chicago Bulls, previously traveled to North Korea in January 2014. On that trip, Rodman sang "Happy Birthday" to dictator Kim Jong Un, who Rodman referred to as his "best friend."
The trip also featured Rodman and a squad of former NBA stars taking part in a pickup game as part of what Rodman called "basketball diplomacy."
Kim Jong Un reportedly is a fan of the NBA, especially the Chicago Bulls teams that Rodman played on in the late 1990s.
President Donald Trump has praised Rodman's previous visits to North Korea.
"Maybe Dennis is a lot better than what we have," Trump told "Fox & Friends" after one of Rodman's trips in March 2013. Rodman also appeared as a contestant on the NBC show "Celebrity Apprentice" that year.
"Dennis is not a stupid guy," Trump said. "He's smart in many ways, he's very street wise."
North Korea has disclosed and tested four new missile systems this year and could have a working nuclear-tipped intercontinental ballistic missile in the next several years. The country is also holding four Americans for various alleged crimes.