Demonstrators in Tehran mark anniversary of Islamic Revolution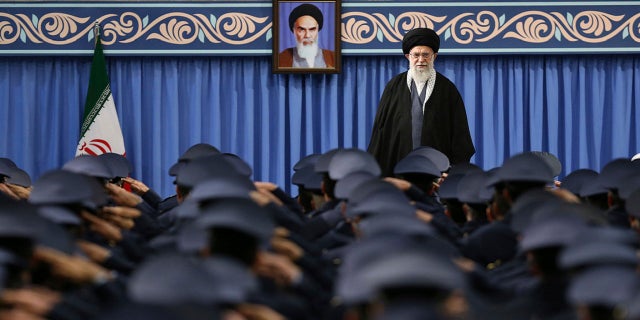 NEWYou can now listen to Fox News articles!
Iranians took to the streets of Tehran on Sunday to mark the 39th anniversary of the 1979 Islamic Revolution. The demonstration comes just weeks after anti-government protests rocked cities across the country.
It also follows last week's return to an Iranian prison of 81-year-old American hostage Baquer Namazi, after a four-day leave for health reasons. Namazi's son Siamek, 41, is also a hostage.
For Americans, the events of 1979 conjure painful memories of 52 U.S. diplomats and citizens being held captive for 444 days, from November 1979 to January 1981. The hostage crisis helped lead to Republican Ronald Reagan's defeat of Democratic incumbent President Jimmy Carter in November 1980.
For Iranians, the era represents the overthrow of U.S.-backed Shah Muhammad Reza Pahlav, aka "the Shah of Iran," and the return from exile of Sayyid Ruhollah Mūsavi Khomeini, aka the Islamic ruler Ayatollah Khomeini.
Sunday's demonstration, in support of iran's government, included traditional slogans against the United States and Israel. Hundreds of thousands converged on the capital city's central Azadi Square, where President Hassan Rouhani was to address the crowd.
In its successes abroad, Iran has helped push back the Islamic State group in Iraq and assisted embattled Syrian President Bashar Assad in regaining strategic ground in his country's long war.
Domestically, however, the country's economy still struggles despite its 2015 landmark nuclear deal with world powers.
In late December and early January, protests erupted across the country over the economy and later morphed into demonstrations directly challenging the government.
The Namazis are not the only Americans being unjustly detained by Iran: Retired FBI agent Robert Levinson has been held since 2007.
Princeton graduate student Xiyue Wang was arrested in 2016 while conducting research for his dissertation. Another American, Karan Vafadari, who ran an art gallery in Tehran, was just sentenced for 27 years because of his religious identity.
President Donald Trump has vowed to impose sanctions on Iran if the American prisoners are not released immediately.
Fox News' Jennifer Griffin and Lucas Tomlinson and the Associated Press contributed to this report.