Defense psychologist says Oscar Pistorius a 'broken man' at sentencing hearing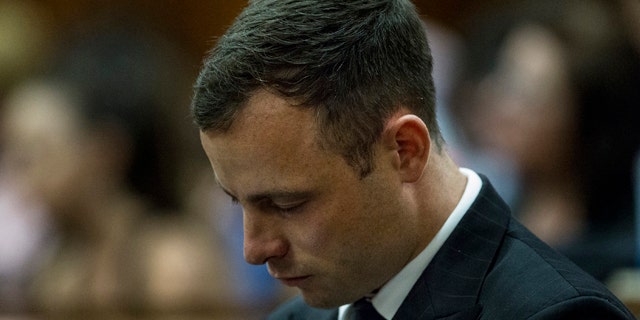 PRETORIA, South Africa – Oscar Pistorius is a "broken man" after killing girlfriend Reeva Steenkamp because he lost the woman he said he loved as well as his reputation, friends, income and sense of self-worth, a psychologist called by his lawyers testified Monday.
Dr. Lore Hartzenberg gave the testimony ahead of the runner's sentencing for culpable homicide, and it was almost immediately characterized by the chief prosecutor as unbalanced.
Hartzenberg said the double-amputee runner had sometimes cried, retched, perspired and paced up and down during meetings in which she tried to assist him.
"Some of the sessions were just him weeping and crying and me holding him," Hartzenberg said.
The testimony was part of an effort by the runner's legal team to persuade Judge Thokozile Masipa that Pistorius has suffered emotionally and materially for what he said was an accident and that he is remorseful. The team hopes the judge will be lenient when she sentences Pistorius after what is expected to be about a week of legal argument and testimony.
Pistorius, once a celebrated athlete who ran in the 2012 Olympics, was charged with premeditated murder but Masipa instead found him guilty last month of the lesser charge of culpable homicide. Sentences for that conviction can range from a suspended sentence and a fine to as many as 15 years in prison.
"We are left with a broken man who has lost everything," Hartzenberg said during her testimony.
Prosecutor Gerrie Nel criticized her findings, saying Pistorius would likely have the chance to rebuild his life.
Several police officers stood guard on the dais where the judge sat amid concerns about her security. Masipa drew criticism from some South Africans who thought Pistorius could at least have been convicted of a lesser murder charge on the grounds that he knew a person could die when he fired four bullets through a toilet door in his home early on Valentine's Day last year.
Steenkamp, a 29-year-old model, died in the hail of bullets, and prosecutors said Pistorius had opened fire in anger after the couple argued. The runner testified that he mistook Steenkamp for an intruder who was about to come out of the toilet and attack him.
Hartzenberg, who described herself as an expert in trauma counseling, said she first met with Pistorius on Feb. 25 last year, 11 days after the shooting death of Steenkamp, and had been counselling him since then.
She said the shooting and Pistorius' lengthy and high-profile murder trial meant the athlete had also suffered severe loss. He had lost Steenkamp, his "moral and professional reputation," many of his friends, his career and his financial independence, she said.
"I can confirm his remorse and pain to be geunine," she said.
Responding to Hartzenberg's description of a broken man, prosecutor Nel asked the psychologist about Steenkamp's family.
"Would you not expect a broken family?" Nel asked, saying Steenkamp's father Barry had suffered a stroke as a result of the killing of his daughter.
Nel said Pistorius also had the opportunity to return to his life and his track career.
"We are now dealing with a broken man, but he is still alive," the prosecutor said.
Hartzenberg was the first witness called by Pistorius' defense lawyers to argue in mitigation of sentencing. Defense lawyer Barry Roux said he would likely call four witnesses during the sentencing hearing. Prosecutor Nel said the state would call at least two, with the hearing expected to last a week.
There is no minimum sentence in South Africa for culpable homicide or negligent killing, although some experts say a five-year jail sentence is a guideline when a firearm is used.