Defectors recall more accounts of rape, torture in UN hearing on North Korea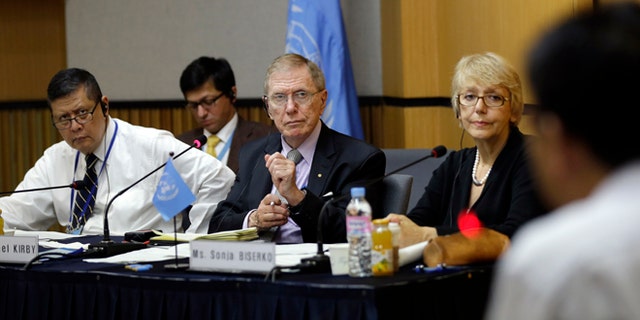 SEOUL, South Korea – Testimony by North Korean defectors at U.N. hearings this week in Seoul has produced chilling accounts of systematic rape, murder and torture — but it's also a poignant reminder of past, toothless U.N. efforts to get Pyongyang to better treat its citizens.
What's new, officials say, is that the United Nations has empowered a formal commission of inquiry to collect evidence of human rights abuses in North Korea and ensure "full accountability" for any crimes against humanity. Recommendations from the commission will be passed on to U.N. and other international agencies for review — and it's possible they could trigger consequences for North Korea.
Even if North Korea is punished, it has already shrugged off years of continuous outside pressure, including tough U.N. and U.S. sanctions directed at its nuclear and missile programs.
Still, the inquiry represents a cranking-up of U.N. pressure and an acknowledgement of defectors' frustrations, past U.N. failures and a desire for stronger international action against Pyongyang.
"You are the only hope to save these people," Ahn Myung-chul told the three-person commission. He worked as a guard and driver at several political prisoner camps in the 1990s before defecting.
North Korea, which denies the existence of the camps and the abuse described in painstaking detail by defectors this week, has responded neither to an invitation to talk to the commission nor a request for the panel to visit the North.
So the panel has been interviewing those who say they have been there — members of the roughly 25,000-person North Korean defector community in South Korea. Much of what has been said this week is not new, but the testimony provided here and later in Tokyo will form a crucial part of the report that the commission will present in March.
At an auditorium at Seoul's prestigious Yonsei University, defectors spoke mostly in measured tones, but at times with tears and anger. They faced probing, sometimes blunt, follow-up questions from the investigators.
Kim Hyuk told the commission he lived on the streets from the age of 7, scavenging and begging for food near the train station where he slept. He watched a public execution when he was 9. He saw children younger than him die in greater numbers because they couldn't successfully beg or steal.
The orphanage where he later lived in the late 1990s, during a devastating famine that killed hundreds of thousands, tried to discharge children because they thought they'd be better off begging on the streets than dying in the orphanage, Kim said.
Ahn said he and his fellow guards would summon inmates from the fields to practice the Korean martial art of taekwondo on them, taking care to target their "weak points." Ahn saw so many inmates beaten to death that he told the commissioners he lost count. Sometimes there would be as many as 20 executions in a year, sometimes none.
"Inmates in the camps are not treated as human beings," Ahn said. "If we shot a captive, we really didn't care if they lived or died."
The government-affiliated Korea Institute for National Unification in Seoul, which conducts in-depth surveys and interviews of North Korean defectors, estimates that between 80,000 and 120,000 people are held in political camps.
North Korea's human rights record has been overshadowed for years by international diplomacy aimed at ridding Pyongyang of its nuclear weapons. Earlier this year, after U.N. sanctions against Pyongyang's February nuclear test, North Korea threatened nuclear war on Seoul and Washington.
Nuclear disarmament talks are stalled, but the commission's visit to Seoul comes as North and South Korea pursue tentative diplomacy meant to restart various cooperation projects that were scrapped during past tensions.
The U.S. human rights envoy, Robert King, will have human rights talks with officials in Seoul in coming days but is not expected to visit the North.
North Korea has done little to improve human rights, despite pressure from many international organizations, said analyst Cheong Seong-chang at the private Sejong Institute in South Korea. He said change from Pyongyang will require aid, other incentives and an easing of political tension on the Korean Peninsula.
Michael Donald Kirby, a former justice of the High Court of Australia and the chairman of the U.N. commission, said in an interview Thursday that such panels are unusual and "used when other systems have failed."
He said that although it is up to the United Nations to decide how to respond to the human rights situation in North Korea, there seems to be "a high degree of unanimity, if not virtually total unanimity, in the world community that something has to be done."
"You can't sit here day after day hearing this evidence" without understanding that desire, he said.