Death of U.S. teen in Paraguay first ruled suicide now being investigated as a murder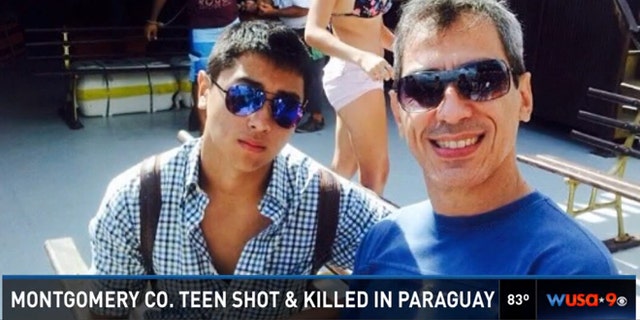 The death of a U.S. teen living in Paraguay that was originally ruled a suicide is now being investigated as a murder after an autopsy confirmed that the boy did not take his own life.
Alex Villamayor, the 16-year-old son of a former Paraguayan congressman, Luis Villamayor, was found dead on the terrace of a farm where he was staying with friends over the weekend. The teen had been shot once in the head. His body was discovered on June 27 on the luscious farm, located in the southern province of Encarnacion.
The teenager spent his life ushering between the South American nation and the U.S., where he had relatives.
"The past month has been a blur. We find little comfort in knowing you didn't take your life as originally told to us. We knew you never wanted to leave us. We are so sad someone hurt you, my love," Alex's mother, Puning Luk Villamayor, posted on Facebook. "I think about you everyday. I think about all the happy moments we shared especially your recent graduation from high school with honors. Wow, my funny Ali Boy, you were on your way to college! I often think about how you gave so much of yourself to everyone."
By studying the residue left from the gunshot, the doctors conducting the autopsy found that Villamayor did not fire the gun found next to his body.
Alex's family has lobbied lawmakers in both countries to get support for furthering the investigation into Villamayor's death. A staff member from Maryland Congressman Chris Van Hollen's office said his staff is now looking into the case.
"In order for us to have FBI follow through they need the Paraguayan authorities to authorize that," Alex's aunt Kim Luk told WUSA.
Family members said Villamayor's father, who still lives in Paraguay, is trying to work with local officials to advance the investigation of his son's death, but few details have been released to the public.
Another key piece of evidence that led investigators away from ruling the teen's death a suicide was a confession by a person employed at the farm.
Paraguayan media reported that the employee, 35-year-old Mathias Wilbs, confessed to altering the crime scene and putting the gun in the boy's hand. He said that the gun found in the victim's hand was a faulty weapon — Wilbs took home the real murder weapon and wiped it clean of his fingerprints, he told authorities.
It is unclear whether Wilb is being held by authorities for his alleged involvement in the murder.
The victim's brother, Antonio Villamayor, told WUSA Alex was enrolled to start college this fall in Maryland and wanted to study business.
"He was loved by everybody and he would always come up with the funniest things to say or he would make the best out of everything," Villamayor said.