Cook hails Anderson's Ashes heroics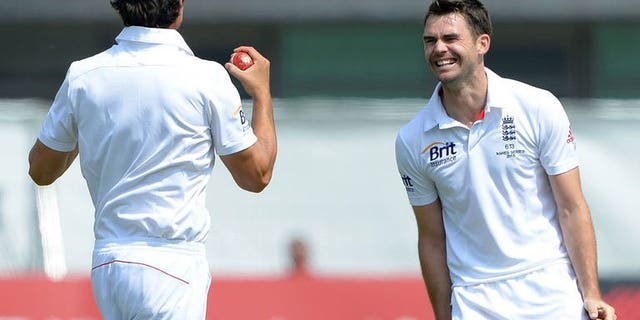 NEWYou can now listen to Fox News articles!
NOTTINGHAM, England (AFP) – England captain Alastair Cook praised the "outstanding" James Anderson after the fast-medium bowler guided the hosts to a nerve-wracking 14-run win over Australia in the first Ashes Test at Trent Bridge on Sunday.
Anderson bowled 13 straight overs before lunch as he finished with an innings return of five wickets for 73 runs and a match haul of 10 for 158, only the second time in his 83-Test career he's taken 10 or more wickets in a match.
A clash beset by umpiring rows and controversy over the Decision Review System ended shortly after lunch on the fifth and final day when England overturned umpire Aleem Dar's original not out decision to have Brad Haddin (71) caught behind off Anderson.
"I always said I would be the only England captain not to go bald in the job but days like today won't help that," joked Cook at the presentation ceremony after Australia, 80 runs adrift of victory at 231 for nine, made England and a capacity crowd sweat in the Nottingham sunshine thanks to a last-wicket stand of 65 between Haddin and James Pattinson (25 not out).
"Australia fought incredibly hard and a lot of credit to them for the way those guys batted today, but we just hung in there incredibly well," Cook said.
"Jimmy was outstanding. He always wants one more over -- I think 13 was probably quite a lot in that first hour!"
Asked if England were over-reliant on Anderson, Cook replied: "No, not at all. He's a world-class bowler and you sometimes use him in these situations when you know there's a timeframe.".
Cook also highlighted Ian Bell's second innings 109, which helped give England just enough runs to defend, as a key contribution to the match.
"It was a real innings of character, determination and skill," he said.
Anderson's match figures were his best in Test cricket since he took 11 for 71 against Pakistan at Trent Bridge in 2010.
"I had the nerves going a little bit but I love bowling here, it's been good to me over the years and I'm happy that I could pick up some more wickets," Anderson said.
Anderson, one of only four England bowlers to have taken 300 or more Test wickets, admitted that maintaining a workload similar to Sunday's stint across a five-match Ashes series would be tough.
"If I'm bowling 13-over spells it's going to be difficult!
"But it's Ashes cricket. I love playing Test match cricket and the Ashes is right up there, and that's why we do the hard work in the gym -- to get out there and bowl long spells."
This was Australia's fifth straight Test loss following their 4-0 series defeat in India earlier this year.
And the fact their two key partnerships this match were both for the 10th wicket, including a last-wicket Test record 163 in the first innings that featured teenage debutant Ashton Agar's 98 -- the highest score by a Test No 11 -- indicated new coach Darren Lehmann had much work to do with Australia's top-order.
However, Australia captain Michael Clarke said: "I don't care how we make the runs, so long as we get them."
He added: "The boys can hold their heads high. It was a wonderful game of cricket but credit to England.
"They fought really hard through the five days and the two best performers were Ian Bell making a hundred and Jimmy Anderson getting five in both innings, so they deserved to win."
Turning to the 19-year-old left-arm spinner Agar, Clarke said: "He's an amazing talent, a great kid. He's got a very smart mind. He's a lot older than his age would tell you.
"He loves the game, he's enjoying being around the Australian family, and I think you're going to see a lot more of him."
As for how technology had affected the course of this Test, Clarke admitted: "I am not happy with my use of DRS but both teams are using it and England have used it better than I have. It is consistent for both teams."