Colorado School Attracts Undocumented Students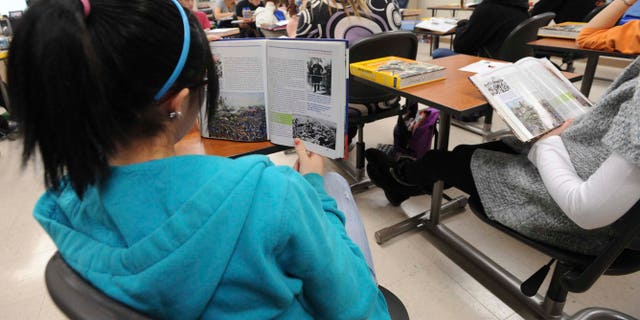 One university in Colorado has opened its doors to undocumented immigrants who have graduated from high school in the state.
Colorado Heights University, formerly Teikyo-Loretto Heights University, will not ask applicants about their residency status or for them to provide a social security number when applying to the school. The university will also let undocumented immigrants pay in-state tuition, provided they graduate from a four year high school in Colorado.
The school made clear that it wasn't taking a stance in the immigration debate and said it wanted to provide everyone with an affordable education. "We wanted to make it very open and give everyone a chance," said Jason Johnson, director of marketing and admissions for Colorado Heights University.
Colorado's state colleges and universities make undocumented immigrants pay out-of-state tuition, which can cost up to $10,000 a semester.
Founded in 1989, Colorado Heights University is a private, non-profit institution located southwest of downtown Denver in an area that has a large number of immigrants. The school, whose current student body is less than 400, charges around $2,300 for a 12-credit semester.
In July, the school will begin to charge a flat fee of $200 per credit for both in-state and out-of-state tuition.
To help undocumented immigrants pay for their schooling, Colorado Heights University has merit-based scholarships. The allotment of the scholarships vary depending on a student's grade point average and cover between 10 and 20 percent of the school's student body.
The school's announcement has drawn some criticism from immigration hardliners in Colorado, including Republican Congressman Tom Tancredo, but others have said they are fine with school's decision as it provides no preferential treatment to undocumented immigrants.
"I have no problem with," said Roy Beck, the head of NumbersUSA, an organization that favors strict immigration policy. "I would not think it was a good thing if they were giving preferential treatment to illegal aliens over a student from Missouri or somebody from Peru who applied for a student visa, but this doesn't seem like what they're doing."
The small school has seen their applications increase since making the announcement.
After a local Spanish-language news network ran a story on the school's policy, 188 people showed up to an open house with the university receiving 25 applications that day. However, Johnson said that their announcement is not about getting more students but about providing an education to anybody who wants it.
He related a story of a local high school valedictorian with a 4.0 GPA who because she was an undocumented immigrant took a job at 7-11 after finishing high school instead of attending college.
"We are not politicians, we are simply a private school that wants people to go to college," Johnson added.
Follow Andrew O'Reilly on Twitter: @aoreilly84
Follow us on twitter.com/foxnewslatino
Like us at facebook.com/foxnewslatino