Colombian sisters reunited after volcano destroyed their hometown 30 years ago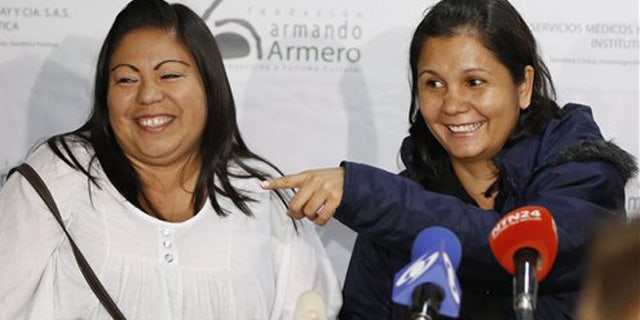 NEWYou can now listen to Fox News articles!
Two sisters separated after an eruption in Colombia that killed over 20,000 people have been reunited after 30 years apart.
They were aged three and nine when the Tolima volcano erupted in November 1985, sending a river of mud and rocks over their town.
The authorities, who had been caring for them separately, thought they had been orphaned and put the sisters up for adoption.
They got back together Thursday after one of them, Jaqueline Vasquez Sanchez, watched a video on Facebook made by the Armando Armero Foundation.
It featured her younger sister, Lorena Sanchez, making an appeal for information about surviving family members.
Jaqueline got in touch with the foundation and it arranged for DNA tests that proved she and Lorena were siblings.
The two women, now aged 33 and 39 and with children of their own, said being reunited was wonderful -- but also nerve-wracking.
"It was beautiful and sad because it's been 30 years since the tragedy that I've come to find out what happened to my sister," said Lorena.
"So I have to catch up with 30 years of her life and she has to do the same with me."
Jaqueline said: "I'm excited, nervous, everything because suddenly, at the moment, you don't know if you're going to feel rejected or something.
"It's something that you find within this: joy, I wonder if she will love me. It's difficult, it's difficult to explain this moment."
The Armando Armero Foundation said it was the first time it had used DNA evidence to bring together Tolima victims.
Sadly, despite public appeals the sisters' parents have still not been traced.
Click for more from Sky News.