Colombia arrests ex-rebel leader who partook in peace deal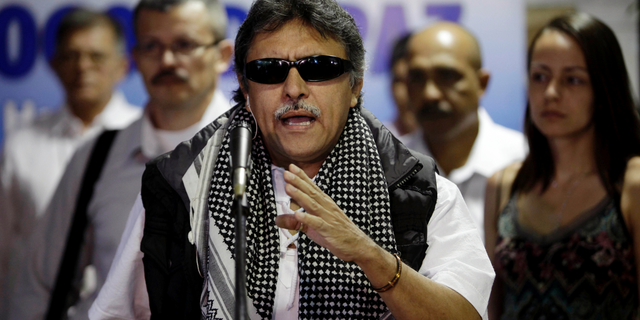 NEWYou can now listen to Fox News articles!
BOGOTA, Colombia – A former leader of Colombia's disbanded rebel army FARC has been arrested.
It's unclear why the former leader best known by his alias "Jesus Santrich" was taken into custody.
His arrest was reported Monday by former members of the Revolutionary Armed Forces of Colombia who say they plan to protest at the chief prosecutor's office.
The chief prosecutor's office confirmed the arrest and said more details would be released by the Colombian presidential palace.
Under a 2016 peace deal, FARC members who lay down their weapons and confess their war crimes are to be spared jail time and extradition.
Santrich was a member of the FARC's central high command, the members of which were indicted on drug trafficking charges by the U.S. in 2006.