Colombia and FARC rebels agree to accelerate peace negotiations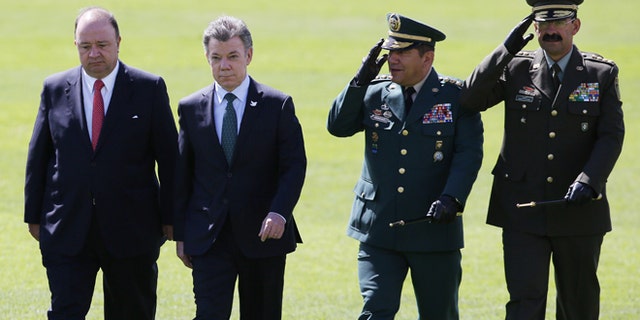 BOGOTA, Colombia (AP) – Colombia's government and leftist FARC rebels have agreed to accelerate peace negotiations and will attempt to negotiate a cease-fire even before reaching an agreement to bring an end to the South American nation's five-decade-old conflict.
The announcement Sunday at the end of the latest round of peace talks in Cuba comes as Colombians' faith in the almost 3-year-old negotiations reached a record low after battlefield violence intensified in recent months.
As part of the confidence-building initiative, Colombia has agreed to scale down military action if the guerrilla group known as the Revolutionary Armed Forces of Colombia (FARC) upholds a unilateral cease-fire — its sixth since talks began — announced earlier this week.
While government negotiators didn't say what military actions might be curtailed, they were adamant that such a move shouldn't be confused with a more encompassing bilateral cease-fire. To that end, both sides invited the United Nations and Unasur bloc of South American nations to discuss ways to monitor and verify the enforcement of any truce emerging when peace talks resume in Cuba in a few weeks.
President Juan Manuel Santos hailed the announcement as a "new light of hope" that will put talks back on track and closer to the finish line than ever before.
But in a nod to critics who say the FARC can't be trusted, Santos introduced a deadline, saying that he'll evaluate progress in four months' time and decide whether to continue with peace talks. Previously the government had rejected the possibility of a bilateral cease-fire before talks were concluded, saying the rebels would use it as an opportunity to rearm and carry out attacks.
"It's time to step on the accelerator and that's what we're doing," Santos said in a nationally televised address Sunday night.
Many Colombians have doubts the rebels will honor their word. The last cease-fire unraveled after six months when the FARC in April attacked an army platoon while it was asleep, killing 10 soldiers. That led Santos to lift his own peace gesture, a ban on aerial bombings of guerrilla camps, and since then both sides had stepped up attacks.
According to independent Conflict Analysis Resource Center, June was the most violent month since peace talks began in 2012, with 83 attacks registered by the FARC resulting in the death of 14 members of Colombia's security forces. A similar number of rebels have also been killed.
The rebels and government have already reached agreements on the first three items of the five-point agenda —land reform, political participation and the fight against illegal narcotics. But progress the past year has been slow as the two sides haggle over how to punish FARC leaders for war crimes amid the rebels' insistence that they won't trade an outlaw's life in the jungle for time behind bars unless jail time is meted out to the military and others accused of atrocities in the long-running conflict.