Colombia admits rights violations in battle with leftists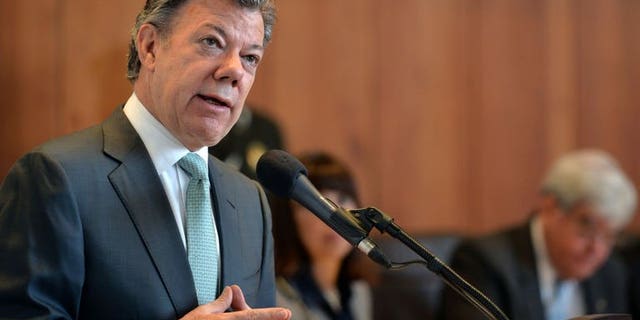 BOGOTA (AFP) – Colombia admitted for the first time Thursday that the government has been guilty of "serious human rights violations" during its 50-year battle with leftist rebels.
President Juan Manuel Santos made the admission in a speech aimed at defending a constitutional amendment known as the "legal framework for peace," which is considered the legal basis for ongoing peace negotiations.
The Bogota government and rebels from the Revolutionary Armed Forces of Colombia since November have been engaged in talks aimed at ending the conflict, Latin America's longest running.
Santos said the government "has been responsible, in some cases by default, in other cases by direct action of some state agents, of serious human rights violations and breeches of international humanitarian law," since the conflict began.
"Our role, as agents of the state, is to guarantee and protect the rights of all citizens. For that reason, our responsibility is that much greater," he added.
But the president emphasized his admission did not absolve the rebels, who he said also are "responsible for human rights violations and international humanitarian infractions."
"If we are truly at the end of this conflict, members of FARC and the ELN and the demobilized fighters of the AUC (the far-right United Self-Defense Forces of Colombia) ... must also take on their own responsibility," the president emphasized.
"That is critical," he said.
Approved by Congress in 2012, the constitutional amendment still requires the endorsement of the constitutional court. It permits the suspension of sentences for rebel fighters who demobilize, among other statutes.
Formed in 1964, the Revolutionary Armed Forces of Colombia, or FARC by its Spanish acronym, is the country's largest guerrilla group, with an estimated 8,000 fighters.
The smaller leftist National Liberation Army, or ELN, is also active in Colombia and has so far remained outside the peace process.