Cold War-style spy games return to melting Arctic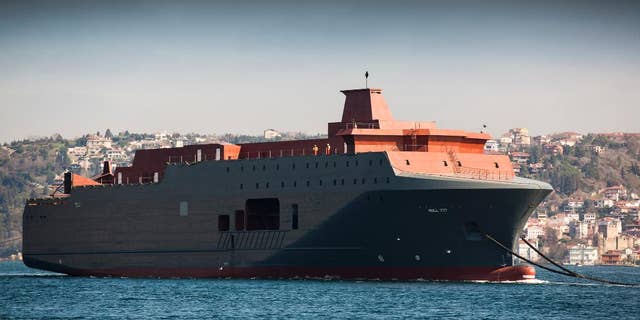 OSLO, Norway – In early March, a mysterious ship the size of a large passenger ferry left a Romanian wharf, glided through the narrow strait that separates Europe from Asia and plotted a course toward Scandinavia. After a two-year refitting, the $250 million ship will begin its mission: to snoop on Russia's activities in the Arctic.
"There is a demand from our political leadership to describe what is going on in this region," said Norway's military intelligence chief, Lt. Gen. Kjell Grandhagen.
As climate change eats away at the sea ice covering the North Pole, Arctic nations — the U.S., Canada, the Nordic countries and Russia — are fishing for secrets in East-West spy games echoing Cold War rivalries. The military dimension remains important but this time there's an economic aspect, too: getting a leg up in the competition for potential oil and gas resources, along with new shipping lanes and fishing waters.
Summer sea ice reached a record low in 2012 and scientific projections suggest it could disappear completely this century. New areas of open water already have allowed more shipping through the Northern Sea Route north of Russia. The melt is also opening a new energy frontier — the Arctic is believed to hold 13 percent of the world's undiscovered oil and 30 percent of its untapped gas.
The most accessible resources lie within national boundaries and are undisputed. Security analysts say the risk of conflict lies further ahead, if and when the ice melts enough to uncover resources in areas where ownership is unclear. The U.S., Canada, Denmark, Norway and Russia are expected to have overlapping claims.
Critics say the U.S. lags in the race. A panel of retired generals recently found that despite a slew of planning documents, the Coast Guard has only one fully ready icebreaker and the U.S. Navy has few ice-hardened vessels that can operate in the Arctic, other than nuclear submarines.
"The geopolitical situation is ever more nuanced and complex. The risk of maritime events, or even unpredictable flashpoints, endemic to national security is growing," retired Admiral Frank Bowman warned in the report.
Russian President Vladimir Putin stressed at a national security meeting his desire "to maintain Russia's influence in the region and maybe, in some areas, to be ahead of our partners."
In 2007 Russia resumed long-range strategic bomber flights over the Arctic and planted a Russian flag on the seabed beneath the North Pole. More recently, it asserted control over the Northern Sea Route with naval deployments and by reopening a military base on the New Siberian Islands. The first oil supplies were unloaded from an ice-resistant platform in Russia's Pechora Sea, which Putin described as "our first step in developing the Arctic sea shelf."
Even before the Ukraine crisis chilled cooperation between Russia and the West in the Arctic, the region's Western nations were trading accusations of cyber-attacks and espionage with Russia and China:
— In Norway, security officials say the country's Arctic plans and know-how, including cutting-edge technology for offshore drilling in harsh weather conditions, is attracting unwanted attention from foreign spies.
— In Canada, a naval officer received a 20-year prison sentence for spying for Russia.
— Police arrested a Toronto man in December for allegedly trying to supply China with sensitive information about Canada's plans to build Arctic patrol ships, allegations China denies.
— In Denmark, a political science professor, Timo Kivimaki, served 2 ½ months under house arrest after a court found his contacts with Russia violated Danish espionage laws. In a rare interview, he told The Associated Press he was carrying a briefcase with public documents about Danish experts studying Arctic policy when he was arrested on his way to a meeting with a Russian diplomat.
— An NSA document dated April 17, 2013, and cited by a Norwegian newspaper in December, said the Norwegian Intelligence Service had helped the NSA with access to "Russian targets in the Kola Peninsula" — home to Russia's Northern Fleet — as well as reports on Russian energy policy.
Grandhagen, the Norwegian intelligence chief, declined to comment on that report but said it's no secret that Norway cooperates on intelligence matters with the U.S.
"You give something and you get something back in other areas. And we give information in areas where we have a good competence and good access," Grandhagen said. Asked what that might be, he said: "I think our understanding of our neighborhood is an area where we are strong."
Grandhagen said Russia is also modernizing its capabilities to collect intelligence, including in cyberspace.
"What I can say is we're aware that Russia has a significant intelligence apparatus including various means to monitor activity on our side," Grandhagen said.
Russia's Foreign Ministry and the SVR foreign intelligence service didn't answer AP requests for comment.
__
Associated Press reporters Matti Huuhtanen in Helsinki, Jim Heintz in Moscow and Rob Gillies in Toronto contributed to this report.