Clinton says US encouraged by India-Pakistan talks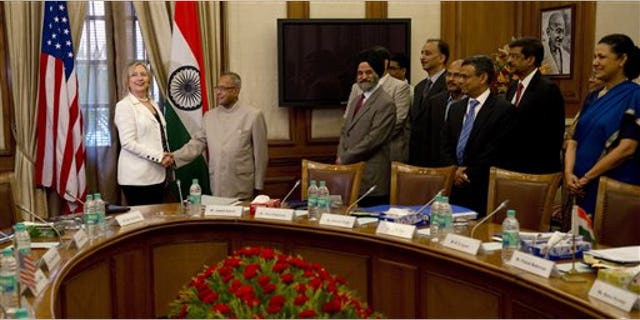 NEW DELHI – U.S. Secretary of State Hillary Rodham Clinton said Tuesday that the United States was "encouraged" by the revived peace talks between nuclear-armed rivals India and Pakistan.
Clinton spoke at a news conference after she talked with top Indian officials about Pakistan, the U.S. withdrawal plans for Afghanistan and ways to broaden economic ties between the United States and India.
Her talks came less than a week after a terror attack in Mumbai killed 20 people, in the worst terror strike in India since 10 Pakistan-based gunmen rampaged through the country's financial capital in 2008, killing 166 people.
After that attack, talks broke off between India and Pakistan, but they have resumed in recent months and the two countries' foreign ministers are expected to meet next week.
"We are encouraged by the dialogue between India and Pakistan," Clinton said, calling talks "the most pomising approach" to build more confidence between the countries.
The U.S. is eager for fragile peace talks between India and Pakistan to pick up steam, in part so Pakistan can focus on its chaotic Afghan border.
Once frosty relations between India and the United States have warmed considerably in recent years as Washington has looked to democratic India as a stable ally in turbulent South Asia and its growing economy as a valuable market for U.S. goods.
During a 2 1/2 hour meeting Tuesday, Clinton and S.M. Krishna, India's foreign minister, agreed to strengthen their countries' ties in on energy, security, the economy, education, science and promoting stability across the region.