City in Pakistan bans Valentine's Day celebrations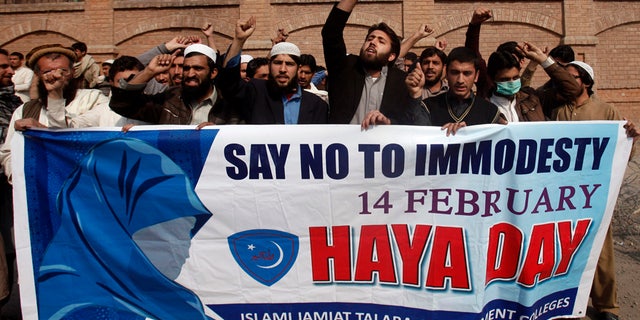 NEWYou can now listen to Fox News articles!
They're just not feeling the love.
A city in northwest Pakistan has banned Valentine's Day celebrations, fearing that such practices could encourage obscene behavior, according to the BBC.
Kohat, run by a religious political party, borders Pakistan's conservative tribal areas. The celebrations, although popular in some Pakistani cities, have repeatedly been criticized by hardliners who warn about the spread of un-Islamic Western values, The Express Tribune reports.
"Valentine's Day has no legal grounds, and secondly it is against our religion, therefore it was banned," Kohat district administrator Maulana Niaz Muhammad told the BBC.
The city's government has told police officers to stop shops from selling Valentine's Day-related items, but no action appears to have been taken against them so far.
Farther east in Pakistan's capital, Islamabad, officials denied earlier reports that Valentine's Day celebrations were banned in that city.
Three years ago in Karachi, Pakistan's largest city, billboards decorated with a black heart urged residents to "SAY NO TO VALENTINE'S DAY."
"Valentine's is against Islamic culture. In our view, relationships are sacred. We have arranged marriages in this culture and people don't get married for love," Syed Askari, a spokesman for Jamaat-e-Islami, told The Express Tribune. "This is imposing Western values and cultures on an Islamic society."