Church bells to draw attention to Philippines death toll
A Roman Catholic archbishop is sounding the alarm about the mounting bodies of drug and crime suspects in the Philippines.
Archbishop Socrates Villegas has ordered church bells to be rung for 15 minutes across his northern religious district each night beginning Tuesday, to rouse a citizenry that he says "has become a coward in expressing anger against evil."
Added Manila Cardinal Luis Tagle, another Catholic leader, as quoted by Ireland's RTE: "We knock on the consciences of those who kill even the helpless, especially those who cover their faces with bonnets, to stop wasting human lives. The illegal drug problem should not be reduced to a political or criminal issue. It is a humanitarian concern that affects all of us."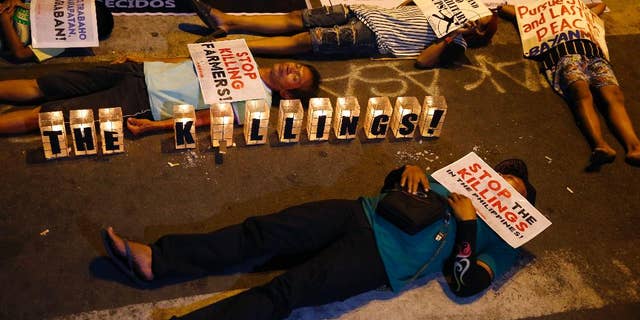 The church's stand adds to a growing outcry after more than 80 suspects were gunned down by police in metropolitan Manila and nearby Bulacan province in just three days last week, the bloodiest stretch under President Rodrigo Duterte's brutal crackdown.
The rising death toll has followed Duterte's offers to police of immunity, promotions, commendations, rewards and vacations in Hong Kong in exchange for cracking down on the drug trade in the Philippines, the Straits Times reported.
But the results – with bodies in the streets on an almost daily basis -- have had human rights activists and opposition politicians condemning what they describe as extrajudicial killings.
Despite the sharp spike in deaths, Duterte – who took office in June 2016 -- has reassured law enforcers that they will not be punished, the report says.
"If the police and the military get into trouble in connection with the performance of duty, you can expect, I really won't agree for you to be jailed," he said.
But critics argue that Duterte and the country's police are fighting the wrong war. They say corruption and poverty are bigger problems than drugs.
"They're killing democracy and innocent people, and in the process unsettling financial markets," says Panos Mourdoukoutas, a professor and chair at LIU Post in New York, writing in Forbes magazine. "And they're not touching the poverty and corruption that pushes people into the drug trade."
"They're killing democracy and innocent people, and in the process unsettling financial markets."
Mourdoukoutas argues that Duterte and other "revolutionists" who've led the Philippines have neglected to remove stifling regulations that have inhibited economic growth and infrastructure development.
He says Duterte's hard-line tactics could be having the opposite of their intended effect, by dividing the country and pushing it to the brink of civil war.
The Associated Press contributed to this story.