Chinese fighter jets seen on contested South China Sea island, evidence of Beijing's latest bold move
The Chinese military has deployed new fighter jets to a contested island in the South China Sea and bolstered their advanced surface-to-air missile system on the island, new satellite imagery provided exclusively to Fox News shows. The move is expected to escalate tensions in the region days before Defense Secretary Ash Carter visits the Philippines, where China's recent provocative actions in the region are expected to be a point of discussion.
Satellite imagery from ImageSat International (ISI) taken on April 7 and authenticated by U.S. defense officials Tuesday show two Chinese Shenyang J-11 fighter jets on Woody Island. The Chinese J-11s, known as "Flankers" by the Pentagon first entered service in 1998. They are a modified version of the Russian Sukhoi Su-27, comparable to a U.S. Air Force F-15 or Navy F/A-18 Hornet.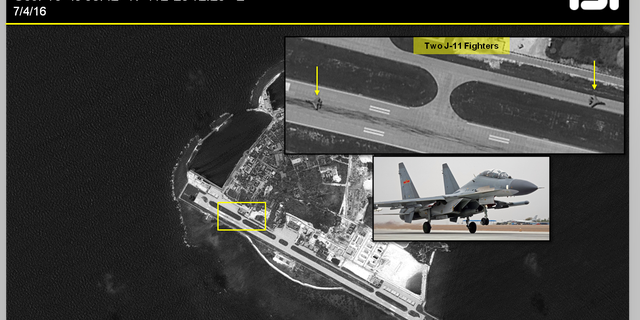 Woody Island is the largest island in the Paracel chain of islands in the South China Sea. The Chinese installed a runway there in the early 1990s. It lies 250 miles southeast of a major Chinese submarine base on Hainan Island. China has claimed Woody Island since the 1950s, but it is also contested by Taiwan and Vietnam.
The concern among senior officials in Washington is that China will eventually control the South China Sea if its militarization continues unchecked. An estimated $5 trillion in cargo and natural resources pass through these coveted sea lanes each year.
The satellite photos also show a newly installed fire control radar system on Woody Island, which makes China's surface-to-air missile launchers first deployed in February fully operational. The U.S. military is concerned the new radar allows China to track U.S. fighter jets, bombers and intelligence gathering aircraft keeping an eye on the Chinese military. The photos from ImageSat International show four of the eight surface-to-air missiles ready to fire on the eastern side of Woody Island.
The Chinese HQ-9 radar system, which closely resembles Russia's S-300 missile system, has a range of 125 miles and can pose a threat to civilian airliners in addition to U.S. military aircraft. Fox News first reported the deployment of the missile system in late February while President Obama was hosting 10 Southeast Asian leaders in Palm Springs.
In a separate disputed island chain, located 200 miles from Manila, U.S. defense officials are also tracking a number of Chinese ships near Scarborough Shoal. Defense Secretary Ash Carter is headed to the Philippines later this week to talk about regional threats. He also will finalize a deal allowing the U.S. military to be stationed there for the first time since the closing of the Subic Bay naval base in 1992.
There were discussions that Carter would visit China on his current trip to Asia, but the visit was postponed amidst rising regional tensions. In February on a visit to Washington, China's foreign minister expressed interest in visiting the Pentagon, but a "scheduling conflict" prevented the visit from happening according to Pentagon Press Secretary Peter Cook.
China has deployed J-11s to Woody Island on separate occasions recently. Fox News reported one deployment in late February, when Secretary of State John Kerry was hosting his Chinese counterpart in Washington. In November, Chinese state-run media showed photos of J-11s on Woody Island as well.
Chinese President Xi Jinping pledged not to militarize the South China Sea when he visited the White House in September. China's foreign minister, in a February press conference with Secretary Kerry, asked that the U.S. military end what the Pentagon calls "freedom of navigation operations" conducted by U.S. Navy warships and military aircraft, bringing them within 12 miles of the South China Sea islands in question.
"We don't hope to see any more close-up military reconnaissance or the dispatch of missile destroyers or strategic bombers to the South China Sea," Foreign Minister Wang Yi said at the State Department.
"It is important for all of the nations – China, Philippines, Vietnam, others – not to engage in any unilateral steps of reclamation, of building, of militarization. And the fact is that there have been steps by China, by Vietnam, by others that have unfortunately created an escalatory cycle," Kerry said in late February.
"We take the [Chinese] foreign minister at his word today that he wants to see this resolved through dialogue," Kerry added.
In late January, a U.S. Navy guided-missile destroyer passed by Triton Island in the Paracel Islands, the same island chain where Woody Island is located. There is an open window for the U.S. Navy to conduct another freedom of navigation operation in the next "few weeks," one defense official tells Fox News, but a final decision has not been made. Defense Secretary Ash Carter has repeatedly stated U.S. military freedom of navigation operations would continue in the South China Sea.
President Obama met with Chinese President Xi on the sidelines of the 50-nation nuclear summit in Washington on the last day of March. In a statement provided by the White House, President Obama "urged China to address differences with its neighbors on maritime issues peacefully."
In the last two years, China has created 3,000 acres of artificial islands atop reefs hundreds of miles south of Woody Island in the Spratly chain of islands. One runway was tested in January, when two commercial airliners landed at Fiery Cross Reef.
After the deployment of fighter jets to Woody Island, defense officials are concerned the Chinese might send them south to the Spratly Islands next.
In February, the head of the U.S. military's Pacific Command said China is "clearly militarizing" the South China Sea, in testimony before the Senate Armed Services Committee.
"You'd have to believe in a flat Earth to believe otherwise," Admiral Harry Harris told lawmakers.
Yonat Friling is a producer in the Middle East Bureau for Fox News Channel. You can follow her on Twitter: @Foxyonat