China says suspects in clash that left 25 dead secretly met to study Koran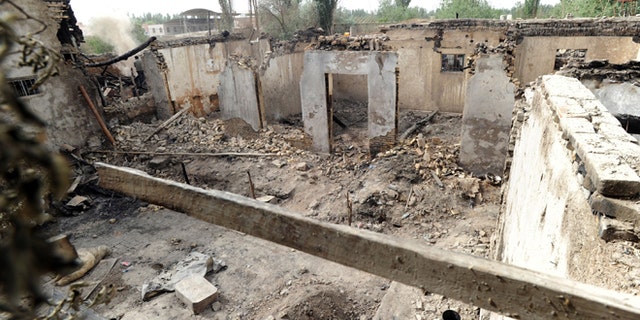 BEIJING – The perpetrators of deadly violence last week in China's Xinjiang region held secret Koran study sessions and possessed extremist religious literature, authorities said Tuesday, accusations likely to be used by Beijing as justification for its strict rules on Islam in the vast northwestern territory.
The claims came amid new revelations about the April 23 clash in which 25 assailants, police officers and local government workers were killed near the city of Kashgar. It was one of the deadliest incidents of violence in Xinjiang since nearly 200 people were killed in a July 2009 ethnic riot in the regional capital, Urumqi. Police say they arrested 19 suspects and killed six others, all of them from the region's native Turkic Uighur Muslim ethnic group.
The group was led by Kasmu Memet, who began hosting the Koran study sessions in September, according to an account from the Xinjiang police that was posted to official websites. In March, they began manufacturing swords and conducting test explosions in preparation for carrying out a major attack this summer in densely populated areas of Kashgar, the account said.
Although official media accounts of the incident have differed, Tuesday's report said the clash began after government inspectors discovered bomb making materials. The inspectors were then grabbed by the attackers and forced into their hideout.
Other attackers then arrived at the hideout and ambushed officers rushing to the scene before setting the building on fire, killing those held inside, the report said. Two assailants were shot to death in the fighting.
Members of the group then began rampaging through a market in the area and attacked the local township government headquarters, leading to the shooting death of one attacker, the report said. Three others then attacked a police barracks and records offices and were all killed, it said.
The report did not further identify the literature that was found, but said the group also possessed three flags inscribed with slogans promoting Islamic holy war.
A sprawling region that borders Central Asia, Afghanistan and Pakistan, Xinjiang sees recurrent violence pitting members of the Turkic Muslim Uighur group against the authorities and majority ethnic Han Chinese migrants. Beijing says China faces an organized terrorist threat from radical Muslim groups supported from overseas, but has provided little hard evidence. Many believe violence to be the product of resentments over Han migration, economic marginalization, and restrictions on Uighur culture and religious life.
China imposes a raft of religious restrictions on Uighur religious life, including barring children and government employees from mosques, ordering young men to trim their beards and banning the wearing of veils by women.
Beijing says it treats minorities fairly and spends billions of dollars on improving living standards in minority areas.