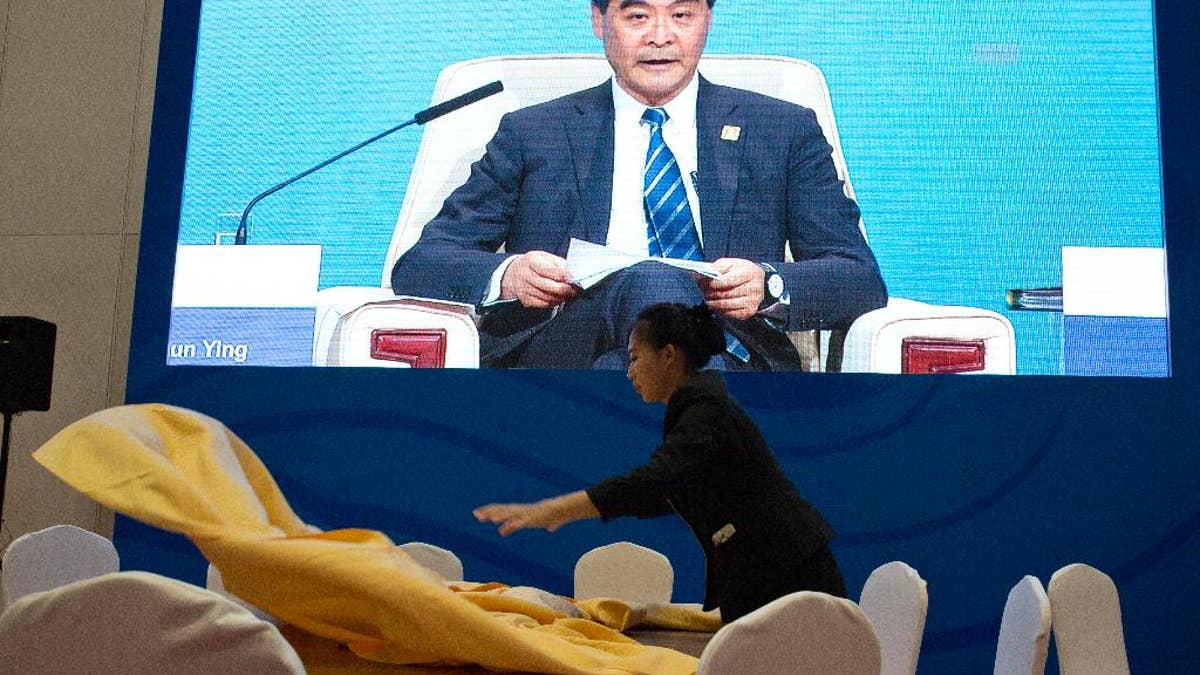 BEIJING – Chinese President Xi Jinping is promising $40 billion to help Asian nations improve trade links in a new effort to assert Beijing's ambitions as a regional leader.
Xi made the pledge in a meeting with leaders of Pakistan, Bangladesh and five other Asian nations ahead of this week's Asia-Pacific economic summit, state media reported Sunday.
The Asia-Pacific Economic Cooperation gathering brings together leaders of the United States, China, Japan and 18 other economies, giving Beijing a prominent platform to assert its ambitions for a regional leadership role to match its status as the world's second-largest economy.
The summit Monday and Tuesday also gives opportunities for regional democracy, including a possible ice-breaking meeting between the leaders of China and Japan after two years of tensions in an island dispute that raised concerns of a military confrontation between Asia's two largest economies.
Beijing has launched a series of initiatives this year aimed at increasing its influence in what it sees as U.S.-dominated regional and global trade, finance and security structures.
The latest effort, the "Silk Road Fund," will finance infrastructure and cooperation in industry and finance to link Asian economies, Xi said in the meeting Saturday with leaders of Bangladesh, Cambodia, Laos, Mongolia, Myanmar, Pakistan and Tajikistan.
"Efforts by a single or several countries are far from adequate," said Xi, according to China's official Xinhua News Agency. "Only by building extensive partnerships where all will think and work in unison can we expect to achieve positive results."
Last month, China and 20 other Asian governments launched a $50 billion bank to finance infrastructure in the region, despite U.S. objections that it was an unneeded duplication of work by the World Bank. Beijing is providing most of the startup capital.
In May, Xi called for the creation of a new Asian structure for security cooperation based on a group that includes Russia and excludes the United States.
Linking Asian countries is "not merely about building roads and bridges or making linear connection of different places on surface," Xi was quoted as saying.
"More importantly, it should be a three-way combination of infrastructure, institutions and people-to-people exchanges and a five-way progress in policy communication, infrastructure connectivity, trade link, capital flow and understanding among peoples," he said.
In a speech Sunday, Xi said China's economy is shifting to a "new normal" of slower but more stable growth and has the resiliency to overcome any bumps in the road.
Xi also touted the benefits of Chinese development to the world in the speech, given to Asian business leaders gathered in Beijing ahead of the APEC summit.
China's outbound investment will exceed $1.25 trillion over the next 10 years, while the country will import more than $10 trillion worth of goods and send more than 500 million tourists abroad over next five years, Xi said.
"For the Asia-Pacific and the world at large, China's development will generate huge opportunities and benefits, and hold lasting and infinite promise," Xi said.
China is spearheading a free trade initiative — the Free-Trade Area of the Asia Pacific — seen as part of Beijing's efforts to counter U.S. domination of global trade and financial regulation.
China's economic growth slowed to a five-year low of 7.3 percent in the latest quarter.
The International Monetary Fund says China should lower its growth target to no more than 7 percent for next year. The Conference Board, a New York-based research group, has forecast that China's economic growth will decelerate to 4 percent a year between 2020 and 2025.
However, Xi said the economy is robust, with strong job growth, low inflation, rising incomes and a shift away from investment to services and high-tech manufacturing.
China is also shifting to a consumption-driven economy, reducing reliance on investment and exports, Xi said.
"Under the 'new normal' conditions, China's economic growth has become more stable and driven by more diverse forces," Xi said.
The world's No. 2 economy has shifted down a gear from the torrid rates of the previous decade, but remains among the world's most dynamic, he said.
Addressing concerns about further declines in growth, Xi said China recognized emerging risks but described them as "not that formidable."
"Resilience best equips the Chinese economy against risks," Xi said.
___
Associated Press Business Writer Joe McDonald contributed to this report.