China flotilla in Japan disputed island waters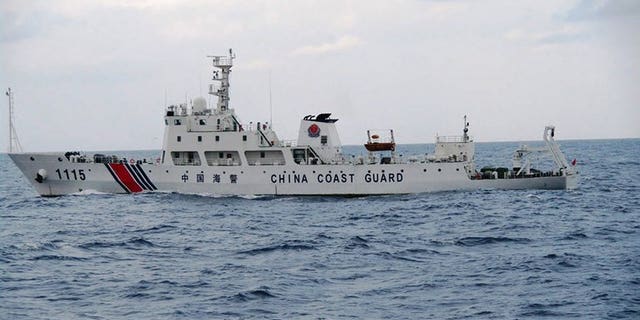 TOKYO (AFP) – Eight Chinese ships were in waters around islands at the centre of a bitter dispute with Japan on Tuesday, as Tokyo said it had not ruled out stationing officials there.
The moves came the day before the first anniversary of Tokyo's nationalisation of part of the chain.
The Chinese coastguard flotilla is the biggest seen in waters around the Tokyo-administered Senkakus since eight government ships were tracked there in April, a spokesman for the Japanese coastguard said.
Official media in China, citing the State Oceanic Administration (SOA), said it was the 59th "patrol" of the area since September 2012, when Tokyo took the islands into public ownership.
Beijing claims the archipelago as its own and calls the islands the Diaoyus.
The report by Xinhua said China's vessels had gone as close to the islands as 0.28 nautical miles during the past 12 months, but did not specify when.
Japan's coastguard said seven vessels had entered Japanese territorial waters around 10:30 am (0130 GMT) and another joined the flotilla a few hours later.
The Japanese foreign ministry lodged a protest against the incursion with the Chinese embassy in Tokyo and requested the immediate withdrawal of the ships, a ministry official said.
"We will protect territorial land, air and water at any cost," Chief Cabinet Secretary Yoshihide Suga told a news conference. "We will never compromise on the issue of sovereignty."
Asked if Prime Minister Shinzo Abe's cabinet will station government officials on the islands, Suga said the government was "considering it as an option", but did not elaborate.
The incident came almost a year to the day since the long-running dispute over the ownership of the islands flared into a bitter row that continues to dog relations.
The islands -- believed to harbour natural resources below their seabed -- are seen as a potential flashpoint that some observers fear could lead to armed conflict between the Asian giants.
On Monday, Japan scrambled fighter jets after an unidentified drone flew near the islands. The drone did not enter Japanese airspace.
On Sunday, Japan tracked Chinese bombers that flew in international airspace between two islands in the Okinawa chain. Tokyo said it was the first time they had used that route to get to the Pacific.