Chávez to Force Hotels to Take in Flood Victims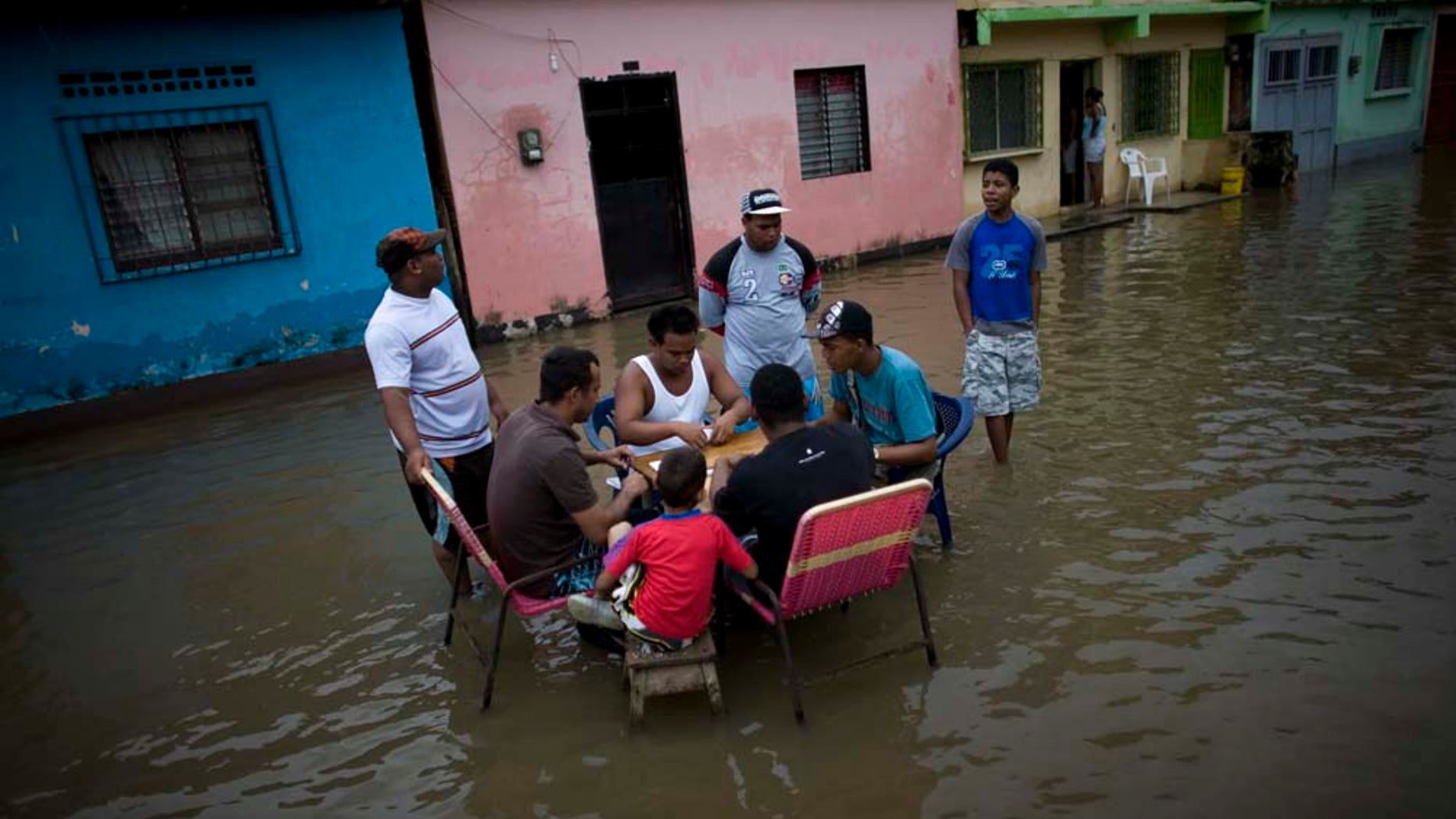 President Hugo Chávez said privately owned hotels had better take in the country's flood and mudslide victims, or else.
The mercurial leader, who has come under fire for his handling of the floods and mudslides that have left tens of thousands homeless, said his government would pay for victims to remain at the hotels until the rains subside.
"I want the tourism hotels," Chávez said during a visit to the coastal state of Miranda. "We will occupy them under lease."
Chávez also announced that the country would build apartments near Simón Boíivar International Airport, the country's largest and busiest airport, and other residential complexes inside El Avila National Park, a mountainous swath of land separating Caracas from the coast.
He lashed out at the opposition, saying wealthy Venezuelans have done little to help ease the effects of the floods.
"You people from the upper class should have already offered your golf courses to set up tents" for those driven from their homes, he said.
Deadly floods and mudslides prompted authorities to evacuate hundreds more Venezuelans from high-risk regions Sunday and stoked fears that voters would abstain from important elections in 11 cities and two states.
Vice President Elías Jaua said a dam overflowed in western Zulia state, but he called for calm, saying the incident had not caused any deaths and noting that 300 people living in villages below the dam had been evacuated.
"It's not going to have significant consequences," Jaua said.
The floods and mudslides unleashed by more then two weeks of steady rain across much of this South American nation of 28 million have killed at least 34 people and left more than 5,000 Venezuelans homeless. More than 90,000 people have taken refuge at hundreds of shelters, Defense Minister Carlos Mata Figueroa said Sunday.
The government has declared a state of emergency in the capital and three states: Miranda, Vargas and Falcon. Rains also pounded the western states of Zulia, Trujillo, Merida and Tachira on Saturday. Heavy rains have continued even though the country's wet season usually ends in mid-November.
Sumate, a local nongovernmental organization that monitors elections, expressed concern the rains would keep voters away from balloting for governors in two states and mayors in 11 municipalities, including Maracaibo, the South American country's second-largest city.
"This situation will undoubtedly have negative effects regarding the participation of voters," Sumate said in a statement issued Saturday.
On Margarita Island, more than 200 families were evacuated from a town near the San Juan River, which overflowed its banks, said Wolfang Díaz, an official with Venezuela's emergency protection agency. Díaz told the Globovisión television channel Sunday that early-morning rains caused mudslides nearby, clogging dikes and prompting the river's water levels to swell.
National Guard troops and federal police planned to evacuate 360 families from the hillside slum of Nueva Tacagua, on the outskirts of Caracas, National Guard commander Luís Mota Dominguez told the state-run AVN news agency.
Chávez foes have charged that the government's response to the floods has been lackluster and say he has failed during his 11-year rule to meet rising demand for low-income housing.
Consequently, increasing numbers of poor Venezuelans have been forced to live in ramshackle slums ringing major cities, they say.
"There are no longer any excuses for this unprecedented failure," prominent opposition politician Julio Borges said Sunday.
Based on reporting by the Associated Press.
Follow us on twitter.com/foxnewslatino
Like us at facebook.com/foxnewslatino