Chavez Says Joining Mercosur a Boon for Venezuela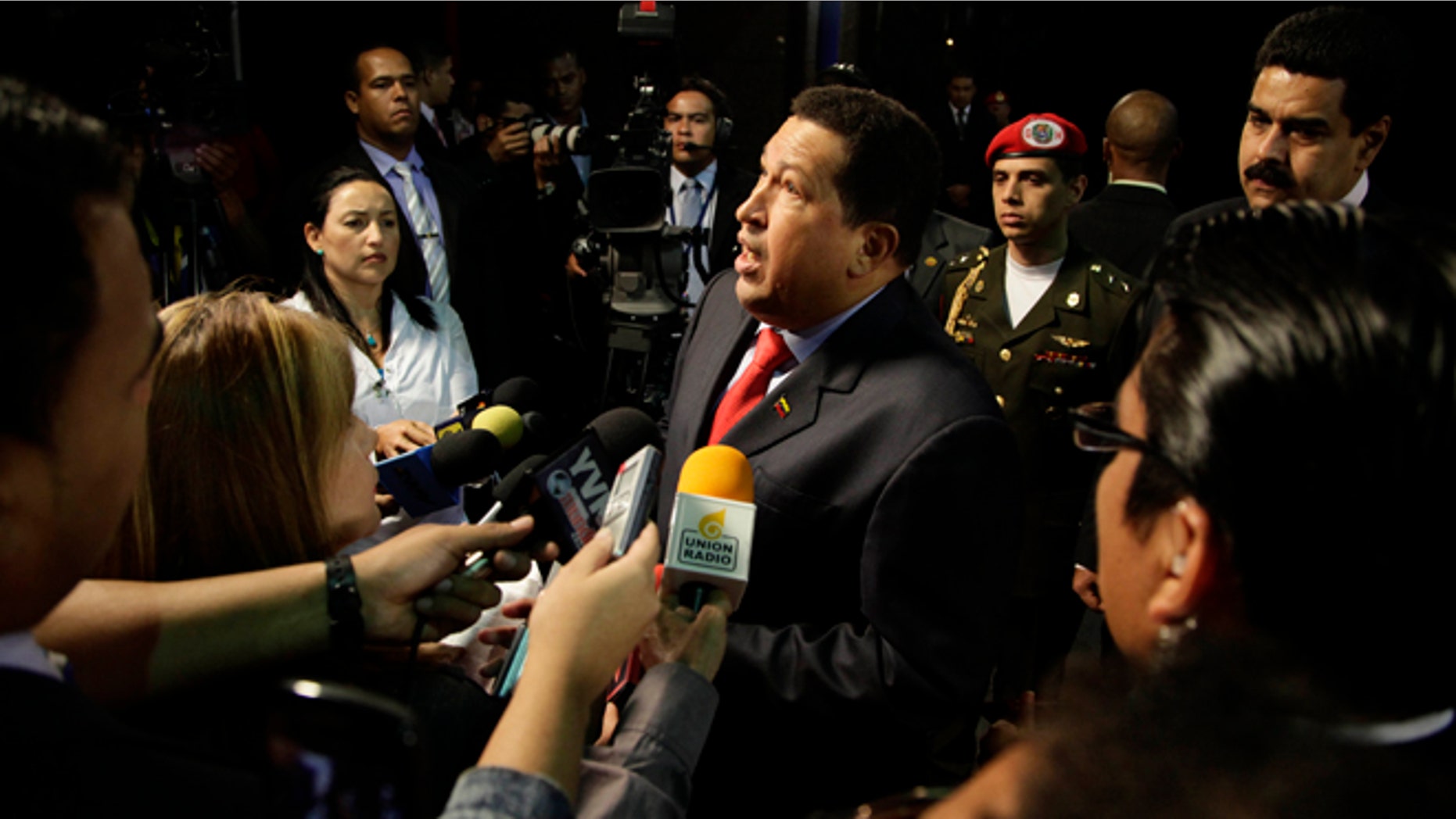 CARACAS, Venezuela – Venezuela officially joined the South American trade bloc Mercosur on Tuesday, a move favored by leftwing President Hugo Chávez and opposed by some of Venezuela's businesses.
During a trip to Brazil, Chávez said joining Mercosur will be a boon for Venezuela and should help the country's businesses boost international sales.
Chávez urged Venezuelan business leaders, some of whom are concerned about reducing tariffs, to support the initiative as he left Caracas for the meeting in Brasilia.
He said joining Mercosur will allow Venezuela "to have a much wider market to climb the scale" in its exports and also diversify its largely oil-driven economy. At the same time, Chávez said the bloc's other members, including Brazil, Argentina, Uruguay and Paraguay, will also have expanded access to Venezuela's vast oil reserves.
Some business leaders and farmers say they're worried that the four-year period during which Venezuela should eliminate tariffs on products from Mercosur members will be too short, and that cheaper imports from countries such as Brazil and Argentina could hurt Venezuelan businesses.
Coffee grower Vicente Pérez said he and other Venezuelan farmers are already struggling due to price controls and 21 percent inflation, and is concerned that joining the trade bloc will bring more economic pain.
"Now we just survive, and when Mercosur arrives I don't know what will happen," said Pérez, who said price controls and other problems have forced him to leave his farm in central Portuguesa state in the hands of workers while he moved to the city to look for other work.
Pérez, who is also a leader of the country's main farmers' association, said he's worried that cheaper imports of products such as beef, soy beans and coffee from countries such as Brazil will drive Venezuelan producers out of the market and lead to declining agricultural production.
Food imports have swiftly risen in Venezuela during the past seven years as the government has sought to meet rising demand, counter inflation and compensate for declining domestic production of various food products. Periodic shortages of items such as sugar, coffee and cooking oil have emptied shelves at times in recent years.
Increased food imports from other South American countries such as Brazil and Argentina have also supplied a network of state-run grocery stores that Chávez's government has opened to bring low-priced products to poor neighborhoods where many of the president's supporters live.
Venezuela's growing commercial ties with Mercosur members could also help Chávez raise his international profile as he seeks re-election in an October vote.
Venezuela's efforts to become a full member of Mercosur have been in the works for nearly six years but until recently were held up by resistance from lawmakers in Paraguay. Last month, when Paraguay was temporarily suspended from Mercosur in response to the congressional ouster of its president, the leaders of Brazil, Argentina and Uruguay seized the opportunity and welcomed Chávez's government as a member.
Paraguay's new president, Federico Franco, whose government is at odds with Venezuela, cited political motivations. "Venezuela has its elections Oct. 7. For that reason, Mercosur is trying to give a boost to President Chávez," Franco said Monday, according to Paraguay's state news agency.
For Chávez, the visit to Brazil for Tuesday's meeting was the first international trip he has made as president in months following an operation in Cuba in February that removed a tumor. Chávez said earlier this month that he is now cancer-free.
Chávez said upon his arrival in Brasilia that with Venezuela joining, "Mercosur increases its territory, its population, its economic potential."
Last week, Chávez dismissed criticisms of Venezuela's entry into Mercosur, saying it wouldn't be anything like the U.S.-supported free trade deals that he has vocally opposed. He called the Mercosur trade regimen "flexible" and said it accepts differences between members.
In contrast with the U.S., Chávez said, "Brazil isn't an empire. Brazil is a brother... as is Argentina, and also Uruguay and Paraguay."
Based on reporting by the Associated Press.
Follow us on twitter.com/foxnewslatino
Like us at facebook.com/foxnewslatino