Chavez, Clinton Shake Hands, Chat Amid Tensions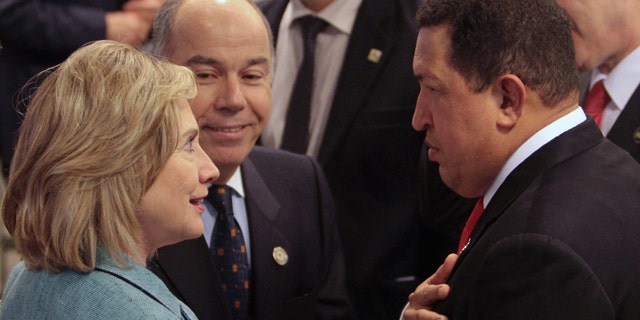 CARACAS, Venezuela – Venezuelan President Hugo Chavez and U.S. Secretary of State Hillary Rodham Clinton shook hands and chatted briefly Saturday in a rare cordial encounter amid a diplomatic dispute that has left Venezuela and the United States without ambassadors in each other's capitals.
The handshake came as leaders were milling about at the inauguration of new Brazilian President Dilma Rousseff. It was unclear what Chavez and Clinton discussed.
Chavez later described the interaction as a pleasant one, though he did not give much detail.
"We greeted each other," he told reporters at the Brasilia airport. "She had a very spontaneous smile and I greeted her with the same effusiveness."
In the past week, their governments have shown firmly entrenched stances as the United States revoked the Venezuelan ambassador's visa in response to Chavez's refusal to accept the chosen U.S. envoy.
"They thought we were going to back down. Anything negative that happens will be the responsibility of the United States," veteran Venezuelan diplomat Roy Chaderton told the Caracas-based television channel Telesur on Thursday. Chaderton, a close Chavez ally and former foreign minister, said the Venezuelan government was considering its next steps.
Chavez has skipped opportunities to respond during the past few days, saying nothing about the U.S. government's decision to revoke the visa of Ambassador Bernardo Alvarez. President Barack Obama's administration took that step in response to Chavez's rejection of Larry Palmer, who has been awaiting Senate confirmation.
It was unclear what concrete effects those actions could have on relations, or to what extent the encounter between Chavez and Clinton could help ease the tensions. Clinton did not respond to questions as she walked into a cocktail reception for Rousseff.
Diplomats from the two countries have long had reduced contacts due to antagonism fed both by Chavez's condemnations of the U.S. and by State Department criticisms of deteriorating democracy in Venezuela.
"Much of the cooperation between the United States and Venezuela in recent years has involved lower-level and lower-profile individuals and agencies than the ambassadors, so the immediate fallout will be limited," said Shannon O'Neil, a fellow for Latin American studies at the Council on Foreign Relations in New York. She said she expects the tensions to persist.
"Demonizing the United States remains too important a political foil for Chavez," O'Neil said.
Palmer angered Chavez by suggesting -- in written responses to questions from Republican Sen. Richard Lugar of Indiana -- that morale is low in Venezuela's military and that he is concerned Colombian rebels are finding refuge in Venezuela.
Chavez accused Palmer of dishonoring his government by expressing concerns on several sensitive subjects -- including 2008 accusations by the U.S. Treasury Department that three members of Chavez's inner circle helped Colombian rebels by supplying arms and aiding drug-trafficking operations.
"This outcome was predictable from the moment Palmer's comments were made public by Senator Lugar in July," said Miguel Tinker Salas, a Latin American studies professor at Pomona College in Claremont, California. "For the State Department to allow this predictable outcome to develop shows that they had no interest in improving relations with Venezuela."
Chavez had vowed not to back down in his opposition to Palmer and dared the U.S. government to expel Alvarez before diplomats confirmed on Wednesday that his visa was revoked. Alvarez was outside the United States when the action was taken, preventing his return.
State Department spokesman Mark Toner said earlier this week that the United States hopes to improve strained relations with Venezuela. "We believe it is precisely because there are tensions in the relationship that it is important to maintain diplomatic communications at the highest level," Toner said.
The U.S. Embassy has been without an ambassador since Patrick Duddy finished his assignment and left in July.
A previous dispute prompted similar expulsions of ambassadors at the end of President George W. Bush's administration. In September 2008, Chavez expelled Duddy and withdrew his own envoy, saying it was in solidarity with Bolivia after President Evo Morales ordered out the U.S. ambassador and accused him of helping the opposition incite violence. The Bush administration denied it and reacted by expelling the envoys of Venezuela and Bolivia.
U.S.-Venezuela relations began to look up after Chavez and Obama shook hands at a 2009 summit in Trinidad. Later that year, the Obama administration and Chavez's government announced they were restoring their ambassadors.
Since then, the relationship has again grown more hostile.
In the past month, the State Department has strongly criticized decree powers granted to Chavez in the waning days of an outgoing congress firmly controlled by his allies. A new National Assembly takes office Jan. 5 with a bigger opposition contingent, and the decree powers will allow Chavez to bypass congress and enact laws in a range of areas for 18 months.
Despite such friction, the two countries are linked by deep trade ties. Venezuela relies heavily on oil sales to the U.S. and imports large quantities of consumer goods from the United States. Oil sales to the U.S. have declined in recent years as Chavez has sought to diversify, selling more to allied countries such as China.
Chavez, whose anti-U.S. position has been a defining feature of his 12-year presidency, has often used vehement condemnations of U.S. "imperialism" to rally nationalism among supporters while also drawing close to countries such as Cuba and Iran that share his views.
Larry Birns, director of the Washington-based Council on Hemispheric Affairs, said that if both parties' "rhetoric becomes more shrill, the situation can deteriorate faster than either side originally intended."
Some in the U.S. Congress, meanwhile, are calling for a hard line against Chavez.
This week, Republican Rep. Connie Mack of Florida accused the Obama administration of taking a passive approach toward Venezuela while Chavez has "destroyed democratic institutions."
"One day the United States and Venezuela will once again have a strong, mutually beneficial diplomatic relationship," Mack said, "but unfortunately, it does not appear that this will be possible under the leadership of Hugo Chavez."