Caught On Video: Daring Rescue As 5-Alarm Fire Destroys Luxury Building In Houston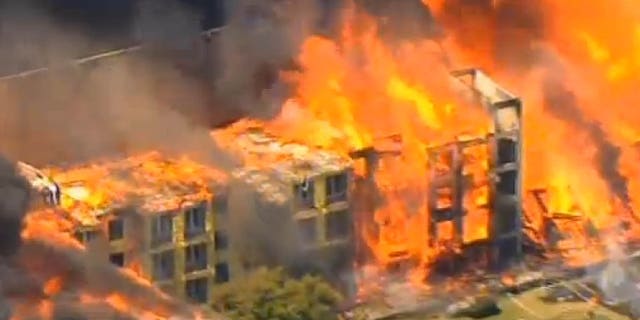 The Houston fire department has been putting water on hot spots at the scene of Tuesday's massive apartment complex fire.
Later today, Houston arson investigators will be back out at the scene picking through the rubble to determine the cause of Tuesday's massive five alarm fire at an apartment construction site.
The fire off West Dallas in Montrose started at 12:32 p.m. and spread quickly through the 396 unit structure.
Houston weather, traffic, news | FOX 26 | MyFoxHouston
The site was an active construction site when the fire started. All the construction workers managed to escape safely. One worker was prepared to jump after being trapped on a balcony by the raging and fast moving flames.
Houston Fire Department Senior Captain Brad Hawhorne, was at the edge of a ladder truck and said "when he looked up at me, he said, ' thank you Jesus'.. he was glad I was there. As soon as he jumped to the ladder, my chauffeur started spinning the ladder to the right, and it was second later that the whole roof collapsed."
Hawthorne said the heat from the massive fire was incredible and intense, even through his fire gear. He said the worker had to really be feeling it.
The apartment complex is in the highly populated area of Montrose. Witness said the fire started in the northeastern corner of the roof.
"there was a report of a couple of guys working on the roof doing welding." Houston Fire Deputy Chief Greg Lewis said. "When our units arrived, there was a small fire and construction workers were attempting to put it out. There was sustained wind of 15 to 20 miles an hour, and it was a wind drive fire."
The blaze produced a massive plume of black smoke that could be seen for dozens of miles from all parts of the city.
Firefighter had to spray down nearby homes and businesses to keep the fire from spreading.
The fire eventually ran out of fuel to burn but not before reducing the 4 1/2 acre Axis Apartment complex to rubble. It also damaged several cars and grave markers at the historic Magnolia Cemetery which butted up against the apartment site.
Read more stories at My Fox Houston
Follow us on twitter.com/foxnewslatino
Like us at facebook.com/foxnewslatino