Car bomb blast in Afghanistan's capital kills 2 NATO contractors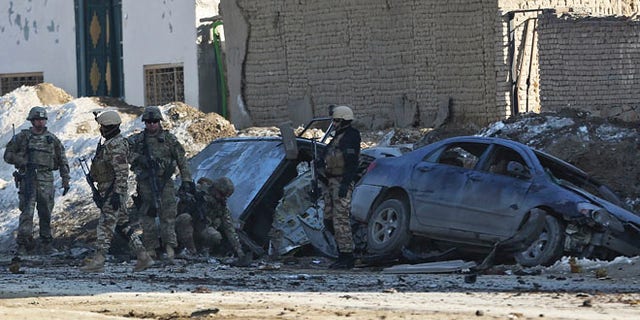 KABUL, Afghanistan – A suicide attacker rammed a car bomb into a NATO convoy in the Afghan capital on Monday, killing two foreign civilian contractors, authorities said.
The Islamic militant group Hizb-i-Islami claimed responsibility for the attack in eastern Kabul, saying it would drive all foreign forces from Afghanistan.
Taliban insurgents and other militants like Hizb-i-Islami have stepped up attacks in the final year of the international coalition's 13-year combat mission in Afghanistan, seeking to shake confidence in the Kabul government's ability to keep order after they assumed full security responsibility last year.
Police spokesman Hashmat Stanikzai said the attacker struck the convoy near the capital's Pul-i-Charkhi prison. He said at least seven Afghan civilians were wounded, including a child.
Police and ambulances rushed to the scene. Only the charred wheels and axels remained of the attacker's car. Two civilian vehicles lay overturned and nearby shop windows were shattered from the force of the explosion.
A local shopkeeper named Jameel, who uses only one name as is common practice among Afghan men, said he saw two NATO vehicles leaving the prison and a car slamming into the second one. He said he saw at least two wounded foreigners but he could not tell the extent of their injuries before they were evacuated.
A Hizb-i-Islami spokesman, Haroon Zarghon, said one of group's fighters carried out the attack using a Toyota Corolla. He said the attacker was targeting "foreign occupiers" and vowed to strike again.
Hizb-i-Islami is a radical group with thousands of fighters and followers across the country's north and east. It was founded by former warlord Gulbuddin Hekmatyar — a former Afghan prime minister and one-time U.S. ally who is now listed as a terrorist by Washington.
The Taliban have vowed to disrupt presidential elections scheduled for April 5, a key test of Afghanistan's fragile democracy and the ability of its 350,000-strong, Western-trained security forces to counter violence.
Interior Ministry spokesman Sediq Sediqi said Monday that Afghan forces will be able to protect 94 percent of the planned polling places in the election. He said police and the military have been working closely with the country's election commission and have determined that 420 of the 7,168 planned voting centers will be too difficult to secure.
The Independent Election Commission officials have said that any polling place that cannot be secured will be closed.
Also Monday, the coalition said one of its service members died Friday in the country's east of a non-battle-related injury. It gave no other details. It is the first fatality for the coalition this month, bringing the year's total to eight.